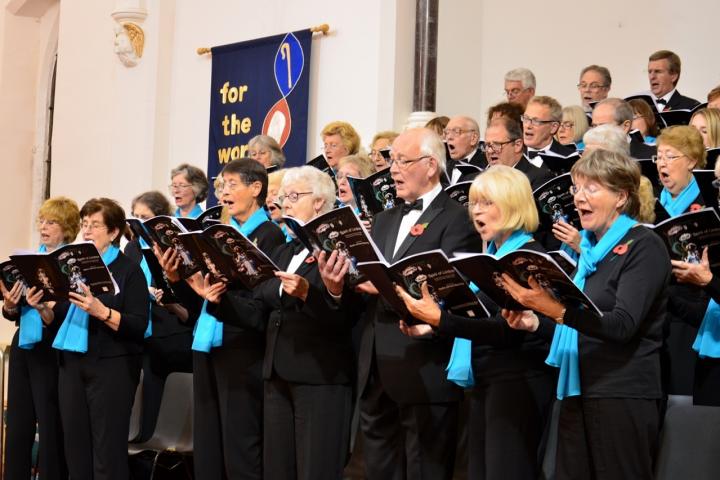 The Lindow Singers debuted the first piece of music ever written for Wilmslow as part of their 50th Anniversary celebrations on Sunday, 10th November, at Wilmslow United Reformed Church.
'Spirit of Lindow' matches the musical compositions of Sasha Johnson Manning with words contributed by some of the Lindow Singers themselves – these included two pieces by John Shields and one by Nigel Stones. A further piece set a medieval poem, translated into modern English, to music by Sasha.
Around 200 people attended the performance, including the Deputy Mayor and Mayoress of Cheshire East, the Chairs of the Wilmslow Trust, Evans Arts Trust and Transition Wilmslow, as well as town councillors.
Saltersley Common Preservation Society, which seeks to protect the famous Lindow Moss, was also present and provided a display about the history of the Moss and the threats it faces.
Andrew Backhouse – Chair of the Singers felt that the pieces reflected people's feelings about the area.
He commented "What is special for me is the view from Alderley Edge, out over the airport and Woodford to the Pennines, and to Manchester and the hills beyond."
Tony Evans, Hon. Sec. of Saltersley Common Preservation Society, said "I was delighted to be invited to the concert. There was a great deal of interest in the Lindow Moss display we provided and I hope that it has raised awareness of the damage being done by ongoing mechanical peat extraction."
For their next concert, at Alderley Edge Methodist Church on the 14th December, the choir will perform something not usually heard this side of the Pennines – some of the Sheffield Village Carols! The concert will be at 7.30pm, tickets can be purchased via 01625 441700.
Lindow Singers meet on a Monday evening at Dean Oaks Primary School to rehearse, and welcome new singers. As part of the 50th Anniversary, they will be working with Sale Choral Society to sing Haydn's Creation at St George's Church, Stockport in March; they will also perform a collection of songs at the High School in June. For more details visit www.lindowsingers.org.uk.
Saltersley Common Preservation Society was formed in 1999 to call for the protection of the ancient raised mire peat bog at Lindow. Visit www.lindowmoss.org.uk to learn more about the Moss.