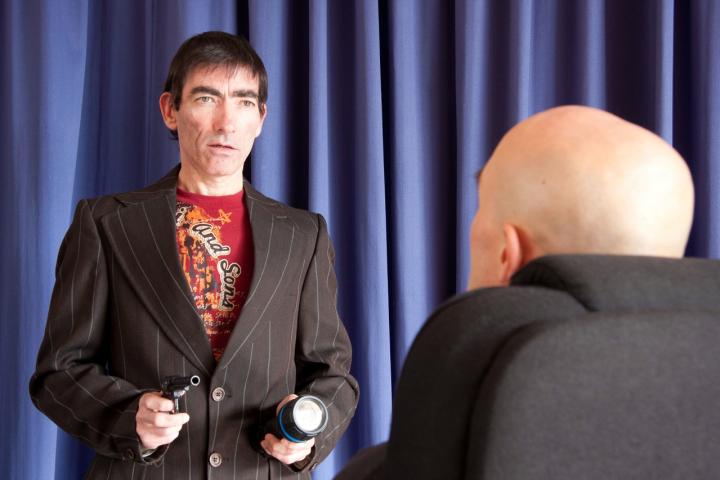 Wilmslow Guild Players' next production is the Northern Premiere of "Murder Weapon", by the acclaimed writer Brian Clemens, author of The Avengers and The Professionals.
On returning from a night out with her friend, Chief Constable Bligh, Diane Tulliver discovers a man holding a gun standing over the dead body of her husband. Ex-convict, Charley Mirren has 'Form' and it looks like a straight-forward open and shut case. Yet, as Jessica Bligh and her colleague Inspector Fremont dig deeper, via flash backs and re-enactments, they discover all is not what it seems at first glance.
Brian Clemens' face may not be as well-known as some but his work is. It is he who gave us the very successful TV series 'The Avengers'. Brian has also worked on 'The Professionals' and 'Bergerac'. Whilst in America, he wrote
for the TV series Perry Mason, Father Dowling Mysteries and has written for the Dick Van Dyke mystery series Diagnosis Murder. Regular theatre goers will also know his stage plays which include 'The Devil at Midnight',
'Without Trace' and 'Strictly Murder'.
Valerie Harris and Brian Clemens have a friendship that goes back many years and she has been involved and acted in several of Brian's productions. Brian sent his new play to Val to read and she loved it. When asked by the
Wilmslow Guild Players if she would like to direct their season opener she suggested to them Brian's new play. On informing Brian that they had accepted she was very happy to learn that Brian was delighted that she had
was going to direct this. Sadly, the Players missed doing this as a world premiere but it will still be the Northern Premiere.
As to what attracted her to the play director, Valerie Harris replied "I found it to be a very good thriller which will keep people guessing right up to the last page. The characters are well written although my favourite one
is, of all people, Charley the ex-convict. This is because he is a tormented soul who has greatly suffered and struggles to find the truth. Due to the way the play is written the staging has had to be changed. Although the Wilmslow Guild Players love to stage their productions on three sides, this would not work so far as 'Murder Weapon is concerned as several surprises would be spoilt".
Asked how rehearsals were going she added "One must always push that extra mile and although we still have some way to go I never get bored at rehearsals. I enjoy watching the actors, who have all added something and are working hard to inhabit their characters as the play begins to slot together. I am happy with a cast that is made up of a combination of seasoned and new actors. The audience can expect to see a good piece of teamwork when they come to see this play. Also a new thriller with a very interesting twist in its tail."
The play runs from 23rd to 26th October at Wilmslow Guild on Bourne Street. Tickets cost £7 and can be booked by calling 01625 520126 or emailing tickets@wgp.org.uk.
Member post by Bill Beton.
Tags: