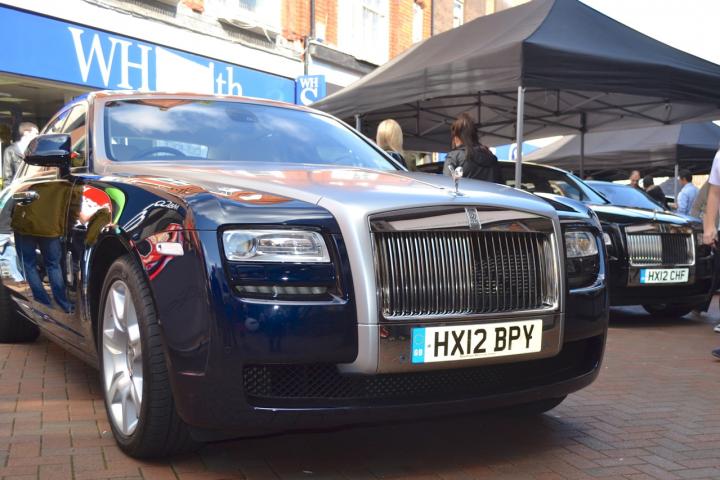 Following on from the huge success of last year's inaugural event, Wilmslow Business Group has announced details of this year's Motor Show which will be held on Saturday 7th September.
The Wilmslow Motor Show is the brainchild of Steve Kennedy, owner of Mail Boxes Etc, and will once again showcase luxury, executive and top-end cars in the town centre.
Steve commented: "As last year, the luxury, exec and sports cars will be placed down Grove Street, giving visitors an opportunity to have a look at the cars and chat to the dealers.
"In addition, we are working on a number of ideas to bring even more pizzazz to the show, including displays down Alderley Road outside Hoopers, Oli Webb with the BAC Mono and the inclusion of high performance European motorcycles. There will be more announcements in the coming weeks."
Steve added "The Etihad Motor Show, sponsored by A-Plan Insurance will not only be a great family day out but will increase footfall, interest and excitement in Wilmslow. It brings the vehicles to the people in a unique pop-up style show and helps promote and market their brands and dealerships. We hope that everyone will put Saturday 7th September in their diaries now!"
The show will include a spectacular supercar parade through the streets of Wilmslow, featuring 50 incredible cars. These will then be on show for the rest of the day at the two supercar paddocks located at Sandfield House, off Water Lane, and Alderley Road.
About 30 luxury cars will be on display down the middle of Grove Street, along with a F1 simulator, and this year the show will be extended with a further 20 luxury vehicles located on the slip road off Alderley Road. New additions this year include four Ducati bikes, Dave Newsham's British touring car and the Jaguar XF Sportbrake - Team Sky's official support vehicle.
Cheshire Police will also be displaying their BMW motorway pursuit vehicle along with their new community support van, a police motorbike and the 'Think' car. This vehicle was donated to emergency services by a family from Wilmslow whose son, Matthew, was tragically killed in a rural road collision in Cheshire more than two years ago, and serves as an educational tool for Cheshire Police to drive across the message to youngsters about drink driving.
Unfortunately Etihad are unable to fly their Formula One car over this year as it will be at an event in America, but local professional racing driver Oliver Webb, who competes in the Worldseries competition and The Indy Lights championship in America, will be returning with the BAC Mono supercar which was made in Holmes Chapel.
Sporting Bears will be offering visitors a trip around the streets of Wilmslow in a luxury car, in return for a donation to The Childrens' Adventure Farm Trust (CAFT) which provides holidays and activities for terminally ill, chronically sick, disabled and disadvantaged children. Their pit lane will be located at the top end of Grove Street, next to Barclays Bank.
Catherine Mackenzie, Chairman of Wilmslow Business Group commented: "This is a great example of the innovative projects that the Business Group are keen to develop and deliver to bring vibrancy to Wilmslow making it a town that we can all be very proud of. The members of the Business Group delivered a great day out last year, bringing a record-breaking 20,000 people into our town. Our challenge this year is to build on last year and deliver an even better and varied show.
"We are of course grateful to Etihad, A-Plan Insurance and Wilmslow Town Council for supporting this innovative Show."
The Wilmslow Motor Show is one of the highlights in Wilmslow's social calendar so put Saturday 7th September in the diary and visit www.wilmslowmotorshow.co.uk for more information.