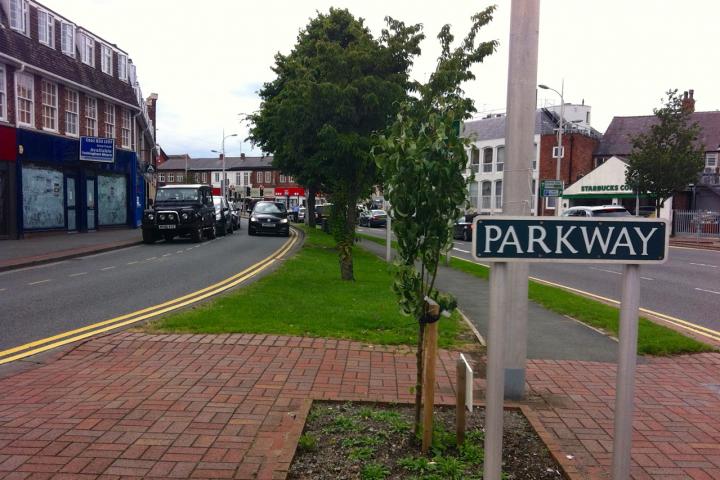 Planning permission has been granted for a large sculpture of a pear to be installed in Wilmslow Town Centre as part of an edible themed sculpture trail.
Incredible Edible, who are passionate about improving the look of the town as well as promoting locally grown food, will be arranging for the sculpture to be installed near the junction of Alderley road and Parkway. This position has been selected as it is considered well placed for passing traffic, overlooked by several coffee bars and suitable distance from street signage.
Stone sculptor Keith Carter Harris, of Incredible Wilmslow, said "Incredible Edible Wilmslow have been working closely with our town council to improve the vista for local residence as well as visitors to Wilmslow. The idea of an edible themed sculpture trail, will make Wilmslow shine as well as bringing a new angle to promoting the ethos of Incredible Edible.
"The sculpture was completed earlier this year and we have been working through the administrative requirements in order to install it as soon as possible. 'The Pear' stands 2 feet in height and is carved from Beestone, a red sandstone from Cumbria. The Pear is mounted on a three foot high stone block plinth of local Kerridge buff sandstone."
Incredible Edible are now waiting for a licence from Cheshire East Highways, works will then commence to install the artwork on Alderley Road.
The cost for production of the sculpture and display sign will be £900 which is being provided by Wilmslow Town Council. Their sponsorship of the sculpture will be acknowledged on a plaque, along with details about the sculpture.
Cllr Ellie Brooks commented "Wilmslow Town Council were pleased to sponsor the pear sculpture to follow on from the apple at the Station, with a view to a "sculpture trail" in Wilmslow town which we feel will enhance the town and hopefully help to increase footfall for our shops.
"The pear sculpture will be placed alongside the pear tree (sponsored by my husband and I) which should bear fruit in a year or so. We hope all will enjoy both the sculpture and the fruit in due course!"
The first sculpture of an apple, sponsored by Northern Rail and Wilmslow Local Area Partnership, was installed at Wilmslow Station last year.
Incredible Edible Wilmslow are now working with Wilmslow Town Council and Arts Council England to fund a further three similar themed pieces to add to the sculpture trail for Wilmslow.