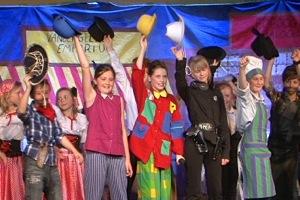 PYPS (Primary Youth Performing Society) performed their summer show 'Ye-Ha' at Lacey Green Primary Academy last weekend, which was a musical western with touches of 'Annie Get Your Gun' and 'Blazing Saddles'!
Sally Hunt commented "Caitlin as 'Wilbur' and Jess as Billie-Jo' led the cast with talent and confidence. There was some great characterisation and the lively performances entertained their audiences over a very hot weekend."
MINIPYPS, who were all aged 4 to 7, also performed their musical play 'The Little Monsters'.
Sally added "The young cast had great fun and delighted their audiences, displaying lots of talent for the future."
45 children were involved are all from schools in Wilmslow and the surrounding area, including Lindow Primary, Lacey Green Academy, Dean Oaks, Styal Primary, Gorsey Bank, St Benedicts and Ashdene Primary.
Students from Wilmslow High School supported both performances over the weekend, assisting with staging, props, sound, lighting and as members of the live band.
PYPS is a musical theatre company bringing together children of all ages from local primary schools. Sessions are held on Saturday afternoons during term time at Dean Row Community Centre. For more information contact Sally Hunt on 07968 770913.