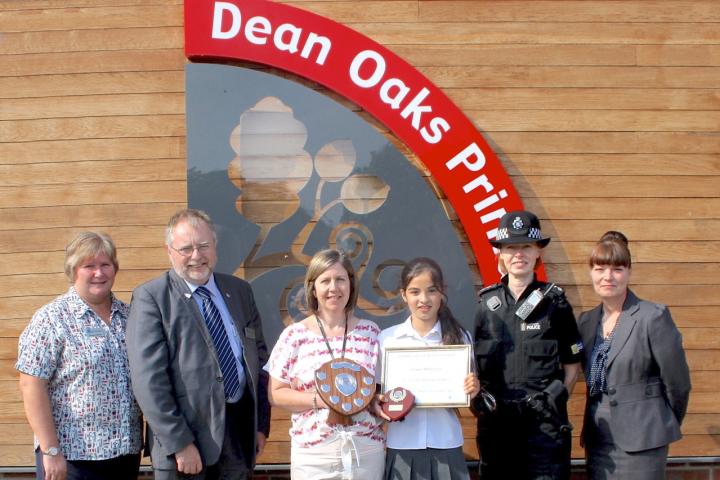 The winner of Cheshire East Junior Safety Officer of the Year 2013 has been announced as 11-year-old Hana Williams of Dean Oaks Primary School.
Hana was awarded for her work in promoting personal, community, road and fire safety among children and staff at her school.
The scheme encourages Junior Safety Officers to record what they have done throughout the year in their Work Books. These are then submitted and judged on the content, the innovative way that they have presented the information and if they have understood and delivered the messages correctly.
Hana used school assemblies, notice boards, competitions and other inventive methods to help improve the understanding of students and staff about the many ways to keep safe.
The award came as a surprise to Hana who was presented with her certificate by Councillor Bill Livesley at a special school assembly which was also attended by Cheshire Fire and Rescue Service representative Francis Edgerton and Jenny Ford from Cheshire Constabulary′s Communities Unit.
Hana said: "I learnt a lot about personal safety, including property marking. Some of the other children have told me that they have now been out and got their own property marking pens to mark their bikes and other things."
Hana wanted to take part in the scheme as it provided a good opportunity to improve her confidence and ability to speak in front of large groups such as school assemblies.
Teacher Julie White of Dean Oaks Primary school explained that the school had seen the benefits of the programme as Hana′s work had covered peripheral areas of keeping safe which might otherwise have been missed.
The scheme was also noted in the school′s Ofsted report which states "The Junior Safety Officers are there 'if you want to know anything about being safe!′"
The scheme′s organiser, Jenny Ford said: "The Junior Safety Officer Scheme allows schools and the Junior Safety Officers to choose which parts of the information contained in the programme they wish to deliver. This means that they can link the safety messages into their curriculum which ensures that the messages are embedded. The Junior Safety Officers can take the messages and deliver them in any way they wish - this in turn encourages other children to pass on the messages to their wider family members and the community."