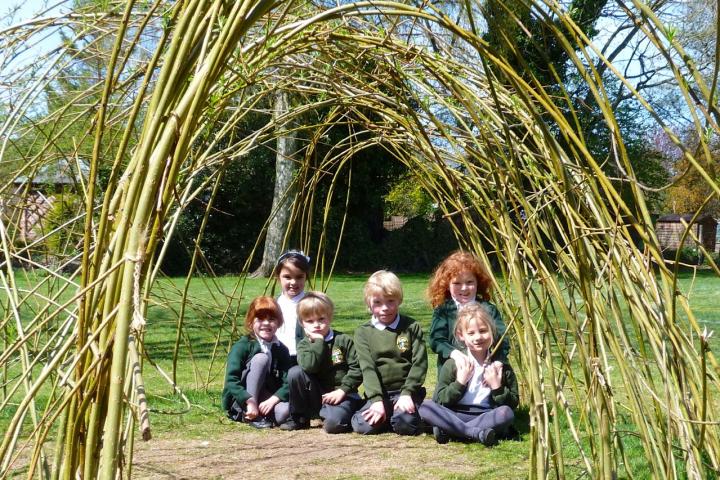 Children at St. Anne's Fulshaw are enjoying a willow arch and dome that is flourishing as the weather warms up.
All the pupils at the school worked together with Jane Foddy from Ginger Cat Willow to plant a willow dome on the school field as part of their annual Global Week.
This year the children spent the week learning about sustainability around the world. In line with the sustainability theme Jane Foddy designed a structure based on houses in Africa. She explained "On a cold morning I took my rods of living willow into St. Anne's Fulshaw School to help the children to make their very own tunnel and dome on the field. The groups were all different ages and everyone worked really, really hard to make the structure - brilliant! What a great team we made!
"I can see that it has been well used, because the grass has worn pathways going all through the tunnel and dome. Well done everybody at St. Anne's."
The dome and tunnel has been very popular with the children - both as a quiet area to sit and reflect on their own or to play in with their friends. Isabel, a year 4 pupil at the school, said "We all love our willow house and it feels even more special because we all helped to make it."
Following the sustainability theme of Global week, the children all brought two litre milk cartons into school and planted them with herbs and vegetables. These were placed on the fence to form a living wall and are now nearly ready for harvest.
The school is a member of the RHS Campaign for School Gardening, which aims to encourage and support schools to develop and actively use a school garden.
The grounds and gardens will be open to members of the community on Friday, July 5th, when the school will be holding their annual Summer BBQ between 6.30-8.30pm. Entrance is free.