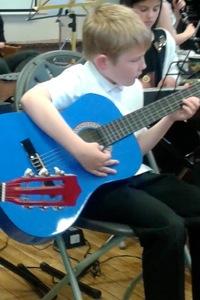 Dean Oaks Primary School held their annual Summer Concert organised by teacher Mrs Rachel Gough on Thursday, 23rd May.
Mrs Gough said "The event was a great success again, the talent in our school is wonderful and I was very proud of the children."
The audience was treated to an evening of piano solos, woodwind and trios, both acoustic and electric guitars, keyboard group performances from Key Stage 1 and the brass and percussion band played several songs to showcase what they had been learning this year. Mrs Goodwin's school choir also performed four pirate themed songs to get the audience roused.
Headteacher Mrs Ciaputa commented "The progression each year from pupils who perform is always fabulous to see. It's a great thing to see them enjoying how to play all of these instruments, which takes a lot of practise and perseverance. I am very proud of the children and would like to add a well done also to their teachers and of course the parents who of course also need some perseverance during rehearsings at home."
Vicki Bennett from Music for Schools Foundation attended the evening, after working with the brass and woodwind musicians, she said "It always makes me a little sad that our Year 6 children are moving on after years of watching them grow and develop but I also feel very proud that such great musicians will be moving on to continue their skills at High School. Best of luck to them all."
Photo: Noa on electric guitar.
Tags: