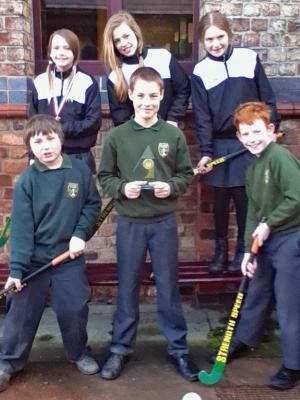 Over seventy local girls and boys experienced the Olympic sport of hockey at Wilmslow High School last week.
Rosie Harris from the Macclesfield School Sports Partnership organised an under 11 'Quicksticks' hockey competition which was won by St Anne's Fulshaw CE Primary School, who now go through to play in the Cheshire Championship.
Close runners up were Whirley Primary with Ashdene a close third.
Quicksticks is a four a side game, fun, safe and exciting, designed especially for 7-11 year olds. It can be played on any surface, and uses a larger, lighter and safer ball.
St Anne's teacher Lynsey Jackson was delighted the team won. She said "The children loved it and we were so pleased with the result, it's the first time we have played in competitive matches."
Junior leaders from Wilmslow High School ran the competition under the guidance of Alderley Edge Hockey Club's community coach Kelvin Briggs who had delivered a Junior Hockey Leadership course at the School the previous week on behalf of the England Hockey Board.
St Annes received a splendid trophy and medals. All the participants received certificates and vouchers to enjoy three free hockey coaching sessions at Alderley Edge Hockey club Junior After School Club.
The teams who took part were: Alderley Edge Community Primary School, Dean Oaks, St Annes Fulshaw, St Benedicts Primary School, Lindow Primary School, Ashdene, St Mary's Congleton, Whirley Primary School Macclesfield and Upton Priory Primary School Macclesfield.
Tags: