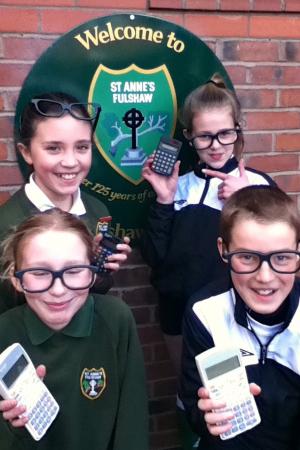 A very talented group of pupils from St. Anne's Fulshaw School exceeded expectations by winning a maths challenge at Wilmslow High School.
The event which was a competition between all the schools in the area was held over one day and tested all kinds of mathematical prowess.
The St.Anne's Fulshaw team of Lucy Cairns, Evie Bailey, Joe Holt and Izzy Broadhurst not only came out triumphant but won all bar one of the challenges during the whole day.
The pupils' class teacher Miss Linsey Jackson commented "We are all so very proud of our team and thrilled at the great result. We may be the smallest school in Wilmslow with only 130 pupils but our pupils are real stars."
The children from Dean Oaks and Lindow Community Primary Schools came second and third respectively. The event was designed as an enrichment exercise for more able pupils with the aim of fostering interest in maths by healthy and friendly competition between the primary schools in Wilmslow.
This is a member post by Nicola Cathery.