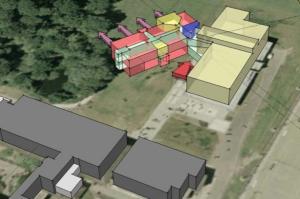 The building of a new Learning and Support Centre at Wilmslow High School has started this week.
Work has commenced on the two storey extension which is being added to the Pavillion, which is predominantly the sixth form base. The extension will provide long awaited teaching accommodation for students with special educational needs and students on alternative programmes.
Health and safety arrangements have been put in place during the works in relation to vehicle access, accessing and exiting the Pavilion and the new fire alarm routine.
Site deliveries will take place before and after the core school day, deliveries will be from the A34 and parents, staff and visitors will not be able to park on the roundabout near the A34 because lorries need access and adequate space to get round to the barrier.
Headteacher Gill Bremner said "The new centre will provide much needed accommodation for students with a range of learning support needs. All students, at some time during their education, need support be it advice and guidance about which university course to follow to the specific needs of a child with ASC or a hearing impairment.
"Working with Cheshire East we are very pleased that, during this period of austerity, we are able to build a £1.6m facility which will support children in Wilmslow to achieve their potential.
"As a popular school our accommodation has become increasingly tight over the last few years and to build appropriate facilities is a very positive step forward in the overall development plan for Wilmslow."
The new Learning and Support Centre will release three general teaching spaces, currently used for special education needs teaching provision, which will be adapted to provide one additional general teaching classroom, a students services area, eight additional toilets, one disabled/staff toilet and a cleaners store.
Wilmslow High School has not decided what to call the new centre yet, which will be attached to the sixth form centre. They are thinking about a new name for the whole building, which will be discussed with the students.
The provisional date for completion on the new Learning and Support Centre is October half term 2013 and an official opening will be held in the autumn term.
Plans for the new centre can be viewed on the Cheshire East Council website by searching for planning reference 12/2997M.
Image: Angled two storey extension.
Tags: