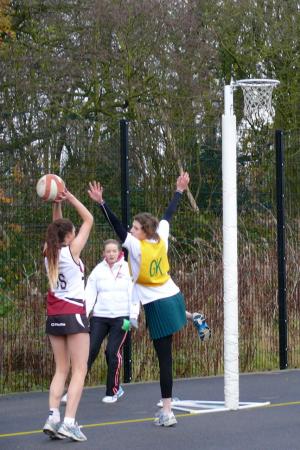 The Cheshire County round of the National Schools Netball Tournament took place on Saturday, 24th November.
Having been knocked out in the semi-finals by Christleton last season, the U16 squad were determined to go one better this time around. And indeed they did, in spectacular fashion.
In freezing conditions, they played Alsager in what proved to be a nervy first encounter, but by the second half the team rallied brilliantly and came away with a 7-4 victory.
Next up saw The Grange with a personal battle between Northern Thunder team mates Iona Darroch at Goal Attack and her opposite Goal Defence. Wilmslow however had the upper hand throughout and capitalised on a number of errors to win the game 9-4.
Finally, a hard fought 10-7 victory over Weaverham saw the U16s top the group and make it to the semi-finals where they faced arch rival Fallibroome. By half time the score was 6-4 to Wilmslow but a second half defensive blitz by Rosie Chapman, Kensey Tucker and Holly James halted their attack and Wilmslow went on to win convincingly 14-4.
And so to the final where Christleton awaited. Both sides played some fantastic netball sometimes at breakneck speed but it was Wilmslow who went into the break 4-3 up.
The second half saw a more composed fast paced display with centre court players Natalie Mitchell and Milly Graham working hard off the ball and feeding superbly to Natalia Schofield and Iona Darroch in the circle. At the final whistle, Wilmslow had won 8-4 and deservedly finished the day as Cheshire Champions.
They will now go through to the Regional Round in February where they will face the winners from Greater Manchester, Lancashire, Merseyside and Cumbria.
The U16 squad is: Natalie Mitchell (c), Natalia Schofield, Kensey Tucker, Holly James, Milly Graham, Iona Darroch, Rosie Chapman, Rose Hewertson, Katie Orr, Lauren Hoodless. A special mention also to the U19's who qualified for the Regional Round as runners up.
This is a member post by Huw Williams.
Tags: