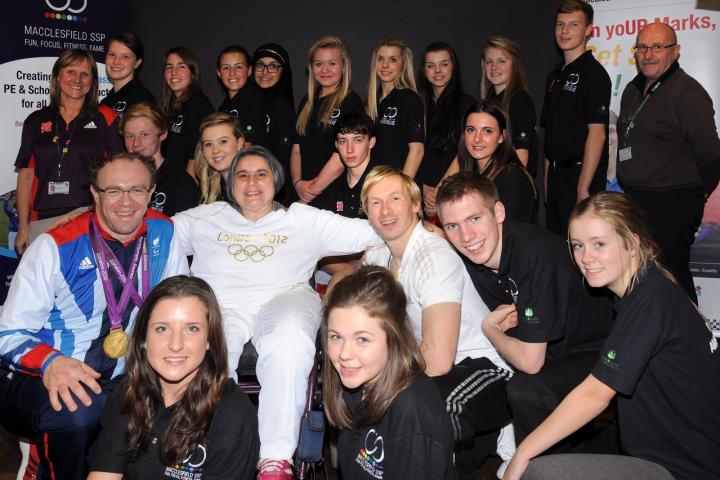 Local sporting heroes visited Wilmslow High School last week to inspire the next generation.
Over a hundred pupils, aged 11 to 19, from across Wilmslow, Knutsford, Macclesfield and Poynton attended the Macclesfield School Sport Partnership Young Ambassador Conference at Wilmslow High School.
They were joined by parents and Paralympic cyclist Barney Storey, ex Olympic gymnast Craig Heap and ex Paralympian and local torch bearer Linda Roche at the 'Inspiring the Next Generation' event.
Everyone attending the conference has been selected by their schools to become a Young Ambassador, an initiative to inspire millions of young people through sport. They attended a series of workshops and sessions led by a number of experienced Young Ambassadors as well as the sports stars.
Aiming to inspire the new recruits, Barney and Craig shared their own experiences of what it is like to be part of a Games event and encouraged the Ambassadors to think about how they can increase interest in sport in their school and community and promote the values of leading a healthy lifestyle.
Across the Macclesfield School Sport Partnership there are now more than 500 Young Ambassadors active in their schools and communities, organising sports festivals, leading school assemblies, coaching, inspiring and setting an example to others. Over 2000 have been trained since the start of the programme.
Rosie Harris, School Games Organiser based at Wilmslow High School, said: "This is a fantastic progamme for young people to learn new skills, have fun and make friends. In the Macclesfield SSP we have been particularly outstanding in this area having won the YST Regional Award two years ago, and this year winning the National Award for our young workforce in the Most Outstanding Inter School Competition Category.
"Since this the 2012 Olympic and Paralympic Games, more and more of our students have expressed an interest in becoming sport leaders. The Young Ambassador programme provides the perfect platform for them to start inspiring others. We are looking to engage more students in disability sports. Barney and Craig inspired over 100 Young Ambassadors to help raise the profile of Paralympic sport across the area. This is a fantastic opportunity to build a sustainable legacy from London 2012 for young people in Cheshire East."
The Youth Sport Trust Young Ambassadors programme, delivered in partnership with adidas and LOCOG, is a movement of inspirational young people who are using the power of the Olympic and Paralympic Games to encourage other young people to take up sport and physical activity.
Tags: