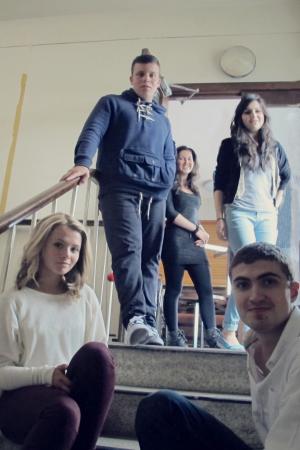 Finn Youth Productions are performing their eighth production next week, marking their first year in the business.
The Wilmslow theatre group are producing a George Bernard Shaw comedy called 'The Bolshevik Empress' which will be performed on October 26th and 27th.
Angus Macalister from Wilmslow Park said "The Bolshevik Empress is another hilarious Bernard Shaw comedy. It's set in the Russian Revolution but it's more just about the laughs, so it's something everyone from Wilmslow, our old audience and hopefully some new, should be able to enjoy."
The group have had a busy few months, Luke went down to London to meet Sir Nicholas Hytner, director of the National Theatre, who was keen to find out more about their work and was impressed that the two 19 year olds were running a theatre group at their age.
They also produced their original show 'That's Jam' at Manchester's Royal Exchange over summer.
Angus said "As the Bernard Shaw comedy is a relatively short one, we're going to give everyone a little sample of our Royal Exchange show 'That's Jam' beforehand which will be good fun.
"But the main thing is that this Bernard Shaw production marks a year in Pownall Hall School for us so we're cutting ticket prices for everyone in Wilmslow as a kind of celebration and thank-you of sorts!"
Tickets are priced only at £5, (£2.50 concession) and are available on 07597 439 331 or on the door. The show starts at 8pm.
Tags: