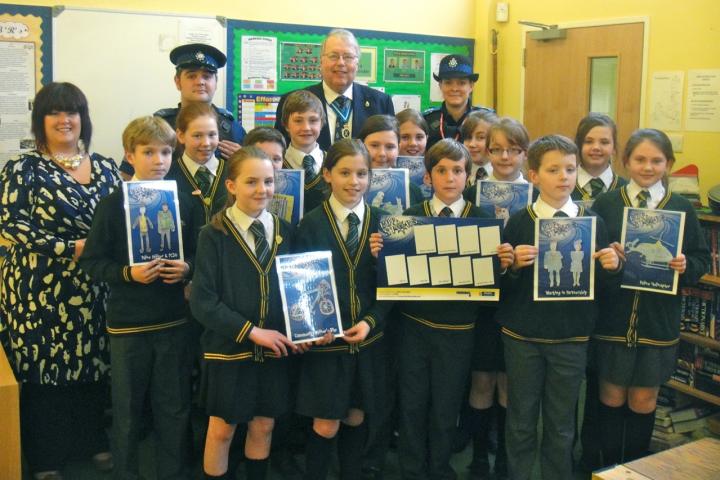 Police Community Support Officers have completed a successful project teaching primary school children about the roles of the police in the community.
The Cop Stars programme was piloted at Lacey Green Academy and funded by the School, Cheshire Peaks and Plains, Great Places Housing Trust and Crime Beat.
It has been hailed a huge success, improving the relationship between the police and young people. So far there are 10 schools signed up to undertake this programme in 2012-2013 across Cheshire, and it is hoped that this number will keep rising over the next few years.
The Cop Stars initiative encourages Year 6 pupils to get to know their local police officers, learn about their roles, be safe and to get involved in community activities. The sessions cover topics including; anti-social behaviour, bullying, road safety and stranger danger.
PCSO Sarah Stanley who initiated the project says "Cop Stars is a fantastic project, the students love the interaction with the PCSOs and partner agencies who take part. The year 6 students didn't want their term to end.
"I definitely feel as though we have made a difference to the way the student interact with the Police. The pupils will now be comfortable approaching the Police when out in their community if they need us or even just to stop for chat."
The Cop Stars programme is loosely based on the Lancashire scheme which has been run for a number of years and has expanded to cover Halloween and Bonfire Night, distraction burglaries, partner agencies, internet safety and cyber bullying.
Each school has a Cop Stars poster and cards to collect for each talk and add to the poster. Every pupil also collects their own set of cards throughout the year, they earn a card by getting involved in constructive activities, such as helping in a community clean-up day or learning about road safety.
A Cop Stars Plus programme will be piloted in Winsford from September, which will be delivered within a six week period to problem pupils in Year 6.