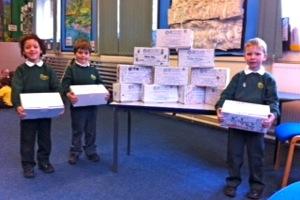 Pupils at Styal Primary School are taking part in the Rotary Shoebox Scheme, which involves filling shoeboxes with much needed products for people in Eastern Europe, who live in a world of poverty.
Boxes are filled with items appropriate for children of various age groups, including teenagers.
Shoeboxes containing toys, toiletries and educational items were handed over to the Rotary Club of Wilmslow Dean ready to be sent overseas.
The Rotary Shoebox Scheme was started by North West Rotary clubs in 1994 to provide children of Lasi, in north-east Romania with Christmas gifts.
Since then, the scheme has become a national project supported not only by Rotary clubs but also by individuals, schools, companies and churches. Each year they send around 60,000 shoeboxes.
Rotarian Stuart Kinsey, said "Styal Primary School has supported the Rotary Shoe Box Scheme at this time of the year for a number of years now. The scheme is also supported by other schools in the area including Lindow Community Primary and Wilmslow Preparatory School.
"Shoe boxes are also filled for the benefit of adults in need and the scheme enjoys support from the Dean Row Stroke Club and the ladies of Inner Wheel."
Sainsbury's on Alderley Road also worked on a joint initiative with the Co-op last week, which involved asking customers and colleagues to donate something to send to soldiers in Afghanistan.
Steve Morris, Manager at Sainsbury's Wilmslow, said "We did this over two days and the response was brilliant so I'd like to say a huge thank you to all those customers and colleagues who donated products."
For more information on the Rotary Shoe Box Scheme visit www.rotaryshoebox.org.