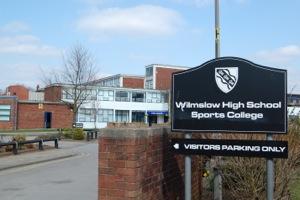 Following on from last week's A Level results and May's outstanding Ofsted report, today's GCSE results have capped an outstanding year for Wilmslow High School.
Of the 284 students who were in Year 11, 80% achieved 5 or more GCSE's at A* - C grades and 35 students (12%) achieved more than 8 A or A* grades. 70% of students achieved 5 A*-C including English and Mathematics and 99% achieved at least one GCSE pass.
Mrs Gill Bremner, Headteacher, congratulated students taking GCSEs in 2011 on their achievements.
"This year's results sustain the outstandingly high levels of attainment that are now the norm at the High School. I am proud of the hardworking and self-disciplined approach shown consistently by our students, which, along with the support of their parents and our staff has enabled them to achieve excellent results once again.
"Students are well prepared for their future study and employment, with all students taking qualifications in work skills and functional skills as well as the more academic courses. I am particularly proud of our strength in the STEM (science, technology, engineering and mathematics) subjects that are so vital for our future economy: students have achieved 100% A*-C (79% A*A) in statistics, and 100% A*-C (72% A*A) in physics, as well as 83% of all students achieving at least grade C in mathematics.
"I wish all students collecting their GCSE results today well for their future studies whether it be in our sixth form or elsewhere; I am sure they would want to join me in thanking the teaching staff and their parents for the support they have given in helping them to achieve so well in their examinations."
181 of the students who received their results today (64%) will be staying on in the Wilmslow High School to join the Sixth Form.
Update: Cheshire East Council have announced that pupils across the region have once again broken their own records with an impressive set of GCSE results.
Provisional figures show that a record 65% of pupils in Cheshire East achieved five or more A*- C grades, including English and maths, which is a 2% improvement on last year. The proportion of pupils gaining five A*- C grades in any subject is also up, from 80% last year, to 83% this year.
Tags: