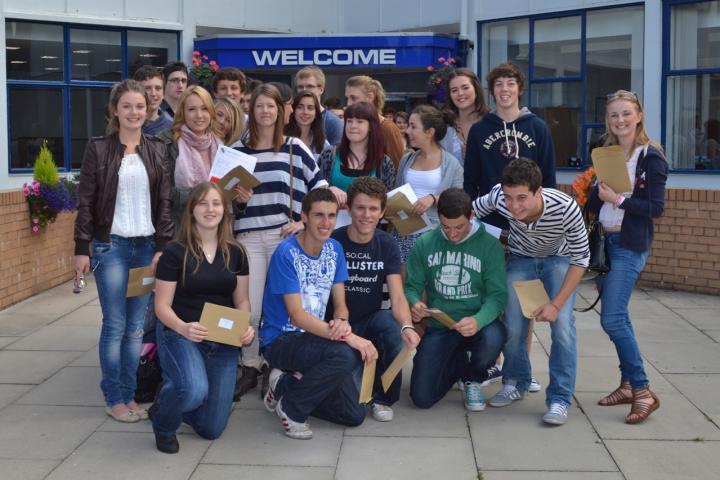 Sixth form students at Wilmslow High School are celebrating after achieving the best A-Level results ever with 65% of all GCE A2 results at AB grades and 69% of all A2 and BTEC results at AB grades.
Overall they achieved a 98% pass rate with 29 students achieving 3 A or A* grades at GCE A2 and 20 students achieving the equivalent of 3 A grades in the BTEC Diploma.
In total 49 students, 23% of Year 13, achieved the equivalent of 3 A grades or better and 43 A* grades were achieved by 32 students.
Headteacher, Mrs Gill Bremner, commented "This has been a superb year for Wilmslow High school and record results for our Year 13 students are yet another cause for celebration. It is delightful to see so many of our students heading off to university and starting careers having achieved excellent qualifications.
"However, there is a great deal more to Wilmslow High School than passing examinations: these students have made a huge contribution to the life of the school through supporting the learning and welfare of younger students, assisting in the running of extracurricular activities, representing the school in sporting and other events such as the Model UN General Assembly, Young Enterprise, Bar Mock Trial and the charity fund-raising events such as the Fashion Show, planned and run by the students themselves.
"We know they will go on to achieve much more at university and in their careers and wish them well in the exciting challenges and opportunities that life will bring.
"I am sure they will join me in expressing thanks for the continuing support of their parents and the hard work and commitment provided by school staff over their years of secondary education."
There were lots of delighted students and very proud parents gathered at Wilmslow High School this morning including 3 students who have received offers from Cambridge.
Jenny Parkin achieved for four A*s and will head off to Cambridge University in October to study chemical engineering. Jenny said "I felt confident I would achieve the grades but I am still really happy. I haven't had the chance to tell my family so they don't even know yet."
Katie Moran also achieved four A*s in maths, further maths, history and chemistry. She is going to Durham University to study maths. Her mum Charlotte told me "I'm really pleased, I knew she'd do well but 4 A*s is fantastic."
Other straight A students I spoke to include Bonnie Chan who will go to Nottingham University to study pharmacy having achieved an A* and two As and Katherine Hassell who also achieved an A* and two A's. Katherine said "I'm really happy, I wasn't expecting to do that well." Katherine will now study psychology at Manchester University.
Poppy Hudghton, who got two A*s and one A, is the first student at Wilmslow High school to achieve an A* in business studies. Poppy, who will go to Newcastle University to study geography, told me "I am ecstatic, I'm so surprised, I've been so stressed."
The record A-Level results for Wilmslow High results follow the school's recent 'outstanding' Ofsted report.
Update: Cheshire East have released figures for the areas 1,620 students who received their A Level results today.
With one school's results still to be confirmed, projections are that students will surpass last year's results, recording a provisional 98.1% pass rate.
Over 25% of all students achieved grades A* to A, a 2% increase on last year, whilst 54% of all students achieved an A* to B grade which represents an increase of 1% compared to last year.
Provisional figures also show that Cheshire East's A-level students achieved an average point score of 747, an increase of last year's average of 716.
Tags: