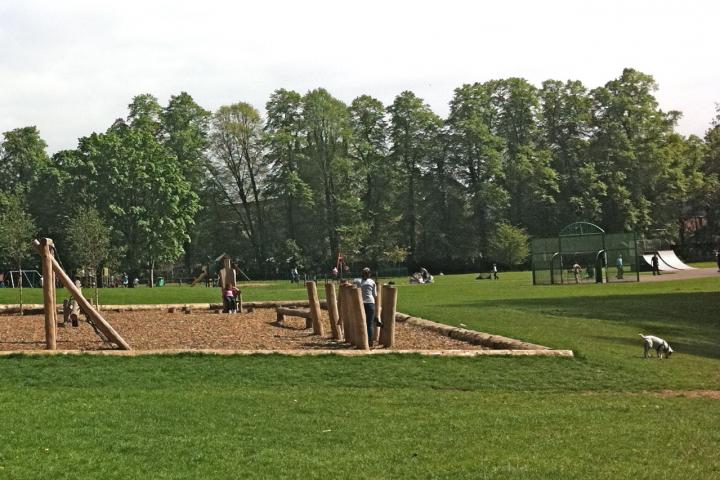 Regular readers may remember my rant about the new playground in The Carrs and the alarmingly high cost, about £25,000, charged to The Carrs Section 106 piggy bank. ("Section 106" usually refers to money paid by developers in association with planning issues.)
As predicted, dogs are finding the playground just as attractive as kiddies do, so a wooden fence is to be erected, again made of very special wood, and at the very special cost (again to the Carrs piggy bank) of £5,000.
There will be an access gap followed by a wobbly log bridge that may deter some pooches, but I doubt if a determined dog will find it much of a problem.
This is just one consequence of the increased dog population – we would not have to build dog-proof fences and spend such daft sums of money but for the sheer number of dogs.
Our park is rapidly becoming a dog-walkers' paradise and many regard it as a more important resource for dogs than humans. As an example, a few weeks ago, my daughter was in The Carrs enjoying a "buggy fit" class for new mums when a dog came wandering around the mums and children. When the teacher politely asked if the owner could keep his dog away, he responded that they had no right to be there and that "this is a park for dogs". An extreme case, but you get the idea.
It would not be so bad if we just had personal pets, on leads, with one owner per dog. But that is often not the case. Busy people go to work, leaving their dogs locked up all day, except for an hour or so when, for lucky dogs, professional dog walkers turn up. Not just one dog per dog walker, but up to a dozen at a time, many running free and doing what dogs do. Plus those brought from far and wide to exploit the freedom to run around at will.
In Manchester's parks, dogs must be on leads - not so in Wilmslow - and it's just a short trip from Wythenshawe for dog owners to take advantage of our lax regulations. "Ooh, it's lovely here," said a recent visitor. "So nice to let our dogs have a good run". And a good unattended poo, she might as well have added.
Although there are many responsible dog owners, a considerable minority still do not clear up their dog mess, thereby creating a considerable risk to children who play in The Carrs. There are other problems: many of us find such large numbers of dogs quite threatening and their constant barking at busy times really does ruin the potential peacefulness of our park. As a final problem, as if one were needed, dogs are allowed to run into the Bollin and this is causing severe damage to the fragile, sandy river banks.
So, what's to be done? Well, Alderley Edge park has "Dogs must be on leads" notices which are obeyed by virtually all owners. It seems unlikely that Wilmslow's open spaces are subject to different by-laws from those in Alderley Edge - so I wonder why dogs are allowed to roam free in The Carrs? Are our Councillors too timid?
County-wide legislation would solve the problem. Just think – less dog mess, no dogs jumping up at you to be "friendly", and less damage to the river banks. A win-win solution!
This is a member post by Graham Beech.
Tags: