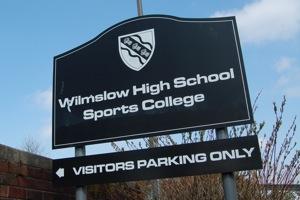 Wilmslow's 1st XV missed out narrowly on a dream Daily Mail Cup final at Twickenham in a 20-17 defeat at the hands of holders Whitgift, thanks to a great performance from centre, Elliot Daly.
Sport can be cruel at times and Wilmslow haven't felt this feeling, until now. With a kick from the talented Will Batterbury, the side top of the Schools Rugby Performance League were a posts width away from taking this thrilling Daily Mail Cup Semi-Final game to penalty kicks, but by the finest of margins the ball sailed the wrong side of the posts.
Before the game had even begun it seemed like Wilmslow had been written off by their opponents Whitgift as well as by the small media hype that surrounded the semi-finals. Roger Hancock and Matt Bebbington stated before the game that everyone out there saw Wilmslow as underdogs, apart from themselves.
Their creative belief would have been boosted by the return of Toby Rowe, who before the game hadn't played a competitive game of rugby since this time last year when he was in the rugby sevens tournament for Wilmslow. Along with this, they had Max Harvey back, who missed the quarter final with a shoulder injury and Tom Hudson joined the squad late as he was with the England U16 squad after his call up earlier this month.
For Whitgift their reputation said it all, holders of the Daily Mail Cup and with the young starlet Elliot Daly, England U20 and London Wasps U18 player, at the helm they were seen as clear favourites not only to beat Wilmslow, but to regain the trophy. However, in sport reputation counts for nothing unless you can prove it consistently and when Wilmslow scored first, Whitgift knew they weren't going to be in for an easy ride.
In the programme notes, Roger Hancock's speeches were dubbed as 'legendary' and whatever him and Matt Bebbington said, it rubbed off on the players. After an incoherent first 9 minutes Wilmslow looked like they were shading the opening proceedings, even after excellent ball carrying from Whitfgift. Good scummaging from the Wilmslow pack, in particular Sam Rodman, allowed their gifted backs to come into the game as Tom Hudson and Olly McCall both tried to create opportunities.
Twelve minutes in for Wilmslow and a dream start as skipper Ethan Harding read the Whitgift passage of play and intercepted the pass to then go on to steam under the posts after a 40 metre run. McCall did what he does best and slotted over the extras.
From this Wilmslow pushed and thought this was going to be their day as Daly missed a penalty 3 minutes later as it rattled the outside of the post. Wilmslow knew what to expect from him as he scored a tremendous 55 yard penalty against Plymouth College in the last round. McCall did uncharacteristically miss a penalty midway through the half which didn't stop Wilmslow's forward momentum.
Hudson produced a trademark run which looked impossible, as he found the smallest gap between two Whitgift defenders, down the right of the touchline. Wilmslow did have the lion-share of possession in the first half, but it was the side from South Croydon which took the advantage going into the break in somewhat controversial circumstances.
A break by Daly from the ruck wide right saw him burst through past Sam James and Harding which they couldn't prevent. However, as U15 Daily Mail Cup Winner Oskar Hirskyji Douglas went to stop the England centre in his tracks it looked like that he was impeded by Whitgift flanker Herbie Butler, which referee Nick Cockburn didn't notice. Daly ran free and easily flicked the ball to full back Chris Crane who ran round and under the posts. Daly scored the conversion. There was nothing controversial about his penalty kick which he calmly stuck in between the sticks on the stroke of half time to give Whitgift the lead.
So far this season Wilmslow have exploded into life in at the beginning of the second half, but on today of all days it didn't seemed to click for them. Daly had two penalty kick chances to extend Whitgift's lead and took one of them as they continued to mount serious pressure on Wilmslow. Daly showed his individual class as he accelerated through the Wilmslow line towards the right corner and once over the try line dived under the posts to set up another easy two points for him and his side.
The equation now for Wilmslow was to score two converted tries which would see them to Twickenham. Before the game, Hancock and Bebbington said that this current Wilmslow side were a 'team of winners' and this needed to stay in the Wilmslow players minds. Qualities which have seen them achieve 17 wins this season, such as Sean Street's passing and good forward work from Luke Tyrell, Sean Klein, Ollie Lee and Callum Hubbard would help them on their way to solving the equation.
With 15 minutes left Wilmslow started to use their power and tenacity, which won them a penalty as Whitgift started to look edgy and were forced into errors. They were caught off side and McCall comfortably nailed the penalty and Wilmslow decreased the gap to 10 points but knew time wasn't on their side. They increased the excellence of their players on field as Jimmy Walker and Jordan Chappell came on to try and fashion chances for Wilmslow.
Another darting run from Hudson gained valuable territory for Wilmslow and it lead to their second and most crucial try of the game.
From left to right conducted by McCall, Wilmslow were worrying the holders and when the ball fell to Max Harvey he used his gusto to find his way through a crowd of players to one handily, touch the ball down and Wilmslow were back in business. From the restart Wilmslow were straight back in the faces of their opponents and won a penalty for a knock on with literally seconds remaining.
Now this is a scenario which the majority of Wilmslow players must have dreamt off last night, a chance score in the last minute. Young Batterbury was selected for the kick because he is left footed and it was from the right side of the pitch, but more importantly he has kicked under pressure, most notably at Twickenham in the U15 final last year. The 15 year old looked cool, calm and collected as he had the chance to level the game. As the ball looked certain to go over, it floated wide to sound of the final whistle and jubilant Whitgift players.
Hancock and Bebbington said in their emotional post match talk that they were "immensely proud and over the moon" and by the facial expressions on Harvey and Street you knew how much it had hurt them to lose like that and miss out on a chance of gracing the turf Twickenham.
Nevertheless they are still the top school for rugby in the north, as well as top of the performance league and more importantly have the chance of silverware with the Cheshire Cup where they have got byes to the semi finals.
The squad that travelled down for the semi-final are a team of winners and they must remember this when challenging for that Cheshire Cup in the coming months, and with a team spirit which is second to none, this is more than achievable.
Wilmslow: T Hudson, S Jafarian, E Harding (capt), S James, T Rowe, O McCall, S Street, M Harvey, T Fantom, S Rodman, C Hubbard, O Lee, L Tyrell, S Klein, O-H Douglas Replacements: S Royle, J Walker, B Jones, T Watts, W Batterbury, S Broster, J Chappell Whitgift: C Crane, J O'Sullivan, E Daly, S Cooke, J Canty, T Nicholls (capt), N Francis, A Hutcherson, S Hugklestone, S Wright, L Robinson, G Merrick, O Dickerson, H Butler, H Ledger Replacements: Y Mensah-Dika, B Razis, C Petschi, G Newman, S Nella, G Smith, G Harding.
Referee: N Cockburn
Final score: Wilmslow High School 17, Whitgift School 20.
Wilmslow Tries: Harding, Harvey. Cons: McCall 2. Pen: McCall.
Whitgift Tries: Crane, Daly. Cons: Daly 2. Pens: Daly 2.
Half-time: 7-10.
This match report is a guest post by Chris Heal, Wilmslow High School.