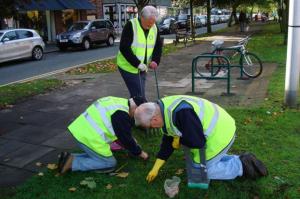 On a fine Saturday morning last October, members of the Wilmslow Dean Rotary Club, along with friends from the Wilmslow Business Group, planted 1,800 purple crocus bulbs in the grass verges between MultiYork and Sainsburys in Wilmslow town centre.
President of the Club and local resident Peter Friend questioned "Most crocuses are now up and flowering, so where have ours gone?
"Did anyone spot local squirrels with arms full of bulbs? Did we plant them upside down and they are blooming in Australia? Where have they gone?"
The crocuses have been planted to raise awareness about polio eradication in the world and to act as a reminder of the work Rotary carries out internationally, in conjunction with the World Health Organization and UNICEF, to eliminate polio from the world.
In 1988 there were 125 countries suffering from this terrible disease, today that number is down to just 4 countries, India, Pakistan, Afghanistan and Nigeria and the organisations are closer than ever to reaching their goal of no more children being paralysed by polio.
The Ruby Giant 'purple' crocus represents the die colour which is dabbed on the children's little finger when they are immunised against Polio. It is used to ensure that every child in the household has been treated and also to prevent them going round a second time, which could be harmful. 'The Purple Pinkie' has become the Rotary symbol for the global Polio campaign.
So, if you spot the crocuses popping their purple heads above the ground let us know via the comment box below.
Rotary is now working on a joint project with the Bill and Melinda Gates Foundation for the final push to eliminate the disease and for every US dollar they raise, the Gates Foundation will add a further $1.75. Rotary's worldwide target is $200 million.
Contact Stuart on 01625 529739 or Peter on 01625 584033 if you are able to help with a donation.
Photo: Rotarians and friends planting the crocuses 'upside down' perhaps.