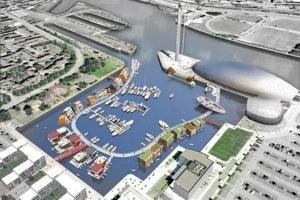 Wilmslow based Floating Concepts Ltd has been chosen by Scottish Enterprise as the preferred bidder to develop the world's first floating leisure village in Glasgow.
The £30 million pioneering proposals from Floating Concepts, designed by Glasgow-based ZM Architecture and specialist water-based architects Baca Limited of London, could create up to 450 local jobs and transform the Canting Basin docks, a mile from Glasgow city-centre, into a spectacular floating community comprising shops, offices, houses, restaurants, a marina and a roof-top concert arena.
"All great coastal cities have a prime waterfront destination and now Glasgow has the chance to join those ranks," said David Beard, Chief Executive of Floating Concepts.
"The iconic nature of a floating village will turn the Canting Basin into a major attraction quite unlike any other in the world, as well as being a dynamic centre for local people and businesses."
Allan McQuade, Business Infrastructure Director, Scottish Enterprise, said: "The floating leisure village proposed by Floating Concepts Limited for the Clyde's Canting Basin has the potential to become a vibrant waterfront tourism and leisure destination at the heart of Glasgow's Pacific Quay.
"It is an innovative proposal which makes maximum use of the water and we look forward to working with Floating Concepts over the next few years as the project is implemented."
Floating Concepts will now begin holding talks with Glasgow City Council with a view to submitting an outline planning application as soon as possible.
The Canting Basin covers 5 hectares of water which borders the Science Centre and IMAX cinema at Glasgow's Pacific Quay. Floating Concepts plans include using cutting-edge design and the latest sustainable technology to create a new canal with a U-shaped floating roadway, comprising a flexible mix of two and three storey glazed office buildings, studio flats and town houses with their own private moorings.
Moored in front of 'The Hub' digital media centre are proposals for an eclectic mix of individual floating office and live/work units, ranging from 1000 to 3500 sq.ft, by leading designers of floating structures in Holland and Scandinavia, which will be offered on an 'off-the-peg' basis, in addition to a bespoke design and build service where required.
Building could start in the second quarter of 2012 and it is expected to take around 3 years to complete and will be built in up to 3 phases.
Floating Concepts are property developers on water, rather than land. They specialise in providing floating solutions for the development of water space which are tailored to suit the location and have a policy of remitting 5% of the profit it makes from any scheme back to the local community.
Floating Concepts is the brainchild of its chief executive, David Beard, a Chartered Surveyor with over 30 years experience in property development, including offices, out-of-town retail and residential development. He was part of the syndicate of investors who lead the early regeneration of Liverpool South Docks with the development of over 100 waterfront properties and the 450 berth, Liverpool Marina Bar and Grill.