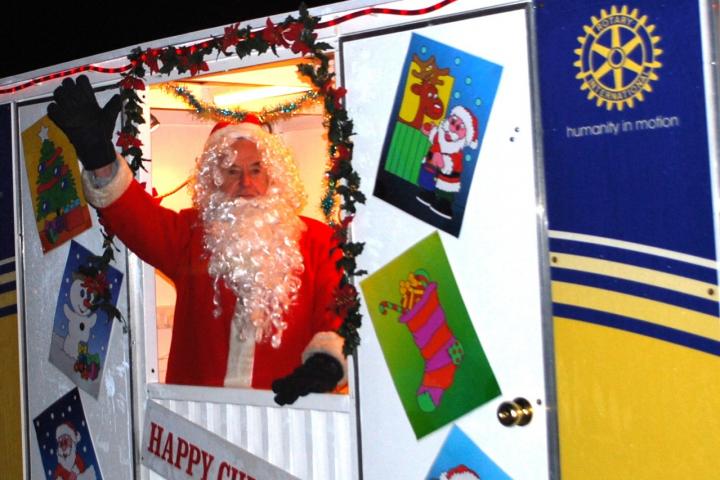 The good people of Wilmslow, Handforth and Heald Green gave generously this Christmas to the Rotary Club of Wilmslow Dean. In the run up to Christmas the Rotary spread their seasonal message of goodwill at local shopping centres and around the streets with Father Christmas and his sleigh.
Rotary Club President, Peter Friend said "Even with the national cut-backs and job uncertainty the public have once again supported our efforts to help local good causes and those less fortunate than ourselves.
"We are delighted to have collected a record sum of £4,213 and for this we are most grateful. All of this money will be used during 2011 in support of local children, young people, the elderly and Rotary International Charities."
Monies collected will be shared between the local school choirs who played and sang at Handforth Dean on the first Sunday in December. The Rotary will also use some of the money to sponsor the Wilmslow Schools Music Festival, which involves two days of singing and fun for local primary schools, in March and a number of trips for the residents of care homes in Wilmslow & Alderley Edge. The Mary Sunley, a purpose build canal boat moored at the Adlington Marina and takes the elderly and disabled on restful day trips to Marple, will also benefit from the generosity of local people.
Internationally Rotary has sponsored the eradication of polio for more than 25 years and supported by the Bill & Melinda Gates Foundation, Rotary is fund raising for the final eradication of Polio in those few countries where it remains. Last October, to raise awareness about polio eradication in the world, they planted 2,000 purple crocus bulbs in the grass verges along Alderley Road in Wilmslow so look out for them in February - each crocus flower represents a child's finger dipped in purple dye to signify it has been vaccinated against this terrible disease.
Should you wish to learn more about the activities of the Wilmslow Dean Rotary Club email Alan Rossington or contact him on 0161 4860504.
Tags: