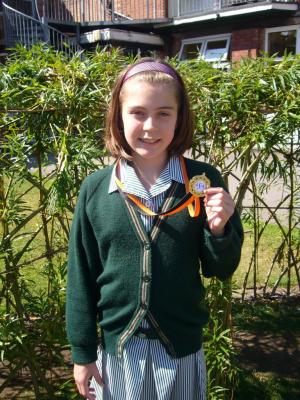 Katie Hughes (11), a Form 6 pupil at Wilmslow Preparatory School, became a national athletics champion last week when she won the Independent Schools Association (ISA) Under 11 600 metre race at the ISA national finals in Bedford.
Katie performed brilliantly and won the event by a margin of some 10 metres. Her class mate, Robyn Copp-Barton (11) also qualified for the nationals in the long jump event. She came a creditable 5th, jumping 3.67 metres.
WPS Headmaster, Paul Reynolds said "We are all delighted with the performances of Katie and Robyn. Their success is a result of hard work and dedication both on their part and that of the sports staff here at School.
"We have a strong commitment to sporting success and the girls are participating in an ever-increasing range of sporting activities including football and cricket as well at athletics, rounders, gymnastics and netball. The excellent grounding to sport that the girls receive at WPS will help them develop even further when they move on to Senior School."