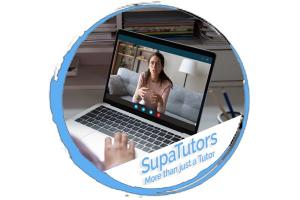 Promotional Feature
Home-schooling can be stressful for parents and leave children struggling academically and lacking in confidence. Supatutors can help both with your current home-schooling needs as well as offer longer term tutoring solutions.
SupaTutors is the new and very different education service that been launched in Cheshire for students from primary, secondary and sixth form. A glance at the website shows this is a company with a fresh approach that looks and feels to be so much more than a tutoring service.
Alongside our specialised academic 1-1 tutorials our programmes include assessments, mock exams and tests with speedy marking and detailed feedback, small group sessions on specific topics or study skills, support with UCAS, Higher/ Degree apprenticeships, career advice, work experience opportunities special needs, pastoral issues and pretty much anything else that you would expect from a school or college. Some of these services are free to those who sign up for their programmes.
The SupaTutors tutors team has been interviewed and selected based on experience, specialisms and the ability to make a real difference by going the extra mile. All of this is what gives SupaTutors the edge.
SupaTutors' founder Wendy Breakell has worked in education for 25 years. Starting at Parrs Wood High School in Manchester she was quickly promoted to Head of Department , then moving into Cheshire as Head of Sixth form and into Trafford as a Deputy Head , she's still regularly approached by former pupils who remember her as one of their most inspiring teachers as well as a senior leader.
She's also been an examiner at GCSE and A Level and trained teachers and new entrants into the profession. Her passion has always been the delivery of great teaching and learning, developing confidence, motivation and self belief so young people can reach their potential . Wendy is determined that SupaTutors reflects these values and as well as running the business, will be one of the tutors delivering on GCSE and A Level History, as well as the sixth form services.
Her decision to create SupaTutors arose from hearing parents' dissatisfaction with some tutoring agencies and she realised that there was a gap in the industry. She explains: "I think it's essential as an agency to check and quality assure your tutors – something that doesn't always happen. A student should always be assessed and the need established, as well as aftercare and follow up. At SupaTutors that is all part of our service - how else can a session with a tutor really have any meaningful impact?"
This is now more important than ever she adds as we move through these extremely challenging times.
Wendy is clear on the SupaTutors mission: "We work in education because we believe in our ability to transform the lives of young people and that should be no different in a tutoring service. We know home schooling is currently placing massive pressures on families and we want to support not only parents but schools too by returning students to them (be it later in June or in September) who are ready for action and less stressed."
She adds: "I know that paying for a tutor adds to a tight family budget, so at SupaTutors we have a wide-ranging pricing structure to ensure maximum impact for the investment made. And above all we deliver to the highest standards, promising true value for money as you would wish for any service you pay for."
We are currently working on line, which in 1-1 or small groups with our Supatutors is a very different experience to being in larger class settings. Our Supatutors team know best practice to make this work and If I didn't believe that I wouldn't be doing this!
If you are interested in this creative and exciting new service and want a tutor that feels like more than a tutor, contact SupaTutors: hello@supatutors.com // www.supatutors.com / 07907 315707
SupaTutors is offering a 20% introductory discount in June.