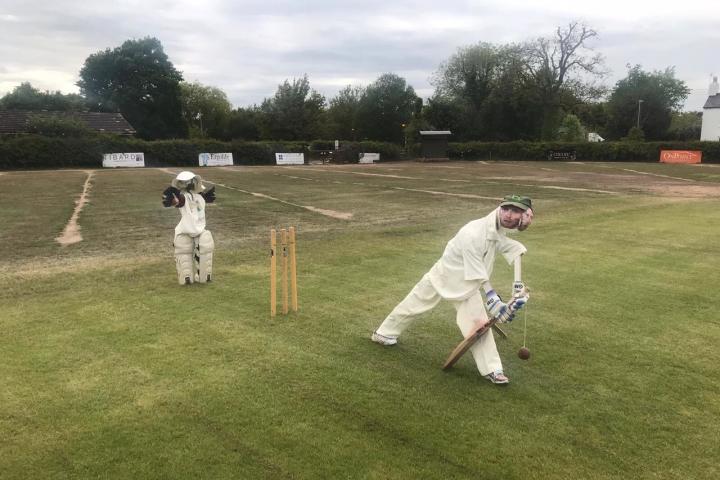 Those of you taking a stroll down Knutsford Road this week may be forgiven for thinking you'd been drawn into some mysterious other world. One free from lockdown, within which ladies, gentlemen and children of the area are enjoying a game of cricket in the sun.
Taking a closer look, you might be forgiven for looking a little puzzled as you perhaps recognise ex-England Ashes winning captain Michael Vaughan directing his team from the field, ex-England wicketkeeper Jack Russell wearing his famous floppy white hat patrolling behind the stumps, and last summer's World Cup hero and all-round superstar Ben Stokes smashing the ball to all parts of Lindow Cricket Club's Upcast Lane ground.
Your eyes would be only partially playing tricks on you. What you are in fact seeing is Lindow's rather ingenious method for keeping the birds away from their newly sown grass seed. A cricket match between scarecrows is in full flow!
Lindow has asked members of the Club and residents of the local community to get stuck into helping with their plan. After the initial call for help went out, it was just hours before an army of cricketing scarecrows started to assemble at the Club's gates, each eager for a bat or a bowl.
Lindow CC is using the enforced break in the summer's play to transform its already attractive ground into one of the finest in Cheshire. Extensive work has gone into new drainage, the levelling of the outfield, and the filling in of the famous Knutsford Road 'dip', which might actually have been more accurately described as a trench. The result will be a snooker-table flat outfield and a ground that will provide the best of facilities for the county's junior and senior cricketers when play is allowed once more.
However, those who count up the scarecrows on their walk past may find that one team is playing without their full complement of 11; as a result, Lindow is asking for more scarecrows. In these lockdown times and with half term coming, what better 'project' for a young one in the family (or not so young, come to that) to get stuck into? A couple of garden canes, an old pillowcase or handful of hay and a cut-out of a famous cricketer to add the finishing touch perhaps...and the job is a good'un. Lindow CC is committed to giving all scarecrows a good game – leave them by the Club's entrance and no doubt Michael Vaughan will be plugging the gaps in the field and Ben Stokes won't be scoring runs quite so quickly.
With a Community effort, there won't be any birds at all, never mind crows, pecking seed as the grass grows. And in this particular game of cricket, we would imagine everyone who bats will get at least one run. There will be no ducks in this game.
Guest post by Rowan Day.