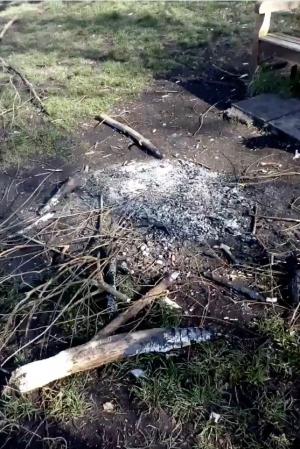 Police are urging parents to question their children if they are going out on an evening during the current coronavirus epidemic when we are all supposed to be staying at home and following Government guidelines to protect the NHS and save lives.
PCSO Hancock made the plea following a fire on Lindow Common on Thursday, 26th March, which is believed to have been started deliberately by youths.
She visited the Common yesterday morning (Friday, 27th March), following reports that youths were out the night before setting a fire.
PCSO Hancock said "We've had local residents out picking up glass, what we believe to be cannabis butts and alcohol bottles."
She added "Why is this not acceptable at this moment in time? We know it's not acceptable full stop but at this moment in time incidents like this cause a great demand on the NHS. They cause a great demand for the fire and they cause a demand for us which absolutely we do not want to be responding to in this current climate.
"So if there had been an accident last night what that would have meant was that somebody would have ended up in hospital taking up a bed of somebody who may have needed it.
"So please please please if your children are leaving the house in the evening question why they are going out. Do they know the consequences?
"Maybe somebody does know who it was and we can be having strong word with them."
Anyone with information about this incident should call 101.