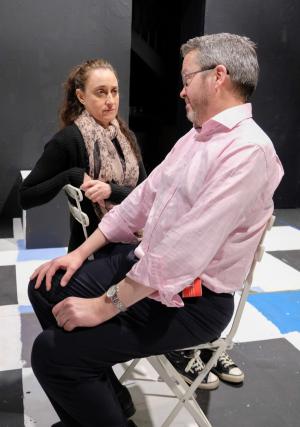 The Green Room's first play of 2020 is a nostalgic and touching journey with Al (Steve Berrington) and Bet (Kim Armston) to Paris on their first trip abroad which sees them navigating their way around the famous sights – with aching feet, confusing maps and a not very useful phrasebook.
Bet and Al lead a quiet, humdrum life in their small Yorkshire home until Bet wins a 'Romantic Breaks' competition in a magazine. The prize, a holiday in 'the City of Romance', represents their first experience abroad and has profound effects on the way they look at the world around them once they return home.
They tackle French cuisine, wrestle with their phrasebook, and fend off would-be muggers on the Metro in this hilarious depiction of the English abroad.
This is sweet story with moments of poignancy and a big dose of Northern humour – guaranteed to give you a good giggle. Directed by John Chidgey, the Green Room's production of April in Paris runs from Saturday February 8th to Saturday February 15th with a special showing on Valentines.
Tickets can be booked online, priced £8 for members and £10 for non-members, or via the ticketline on 01625 540933.
Guest post by Hilary Pinnock.
Tags: