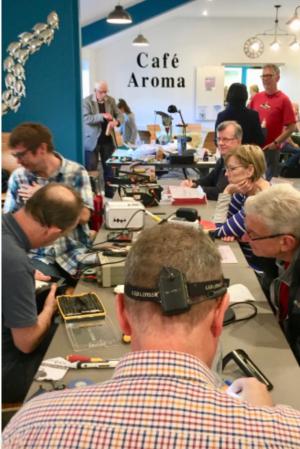 After a very successful first Repair Café in Handforth in October, Transition Wilmslow is holding an event in Wilmslow on Saturday 18th January.
Wilmslow's first Repair Café will take place from 10am to 1pm, with the last repair at 12.30, at the United Reformed Church Hall on Chapel Lane.
Expert volunteer repairers will do their best to repair furniture, small electrics, textiles (clothing, home furnishings, knitting), toys and bikes. There is no entrance fee and there will be coffee and cake available.
Ken Wallace from Transition Wilmslow said "Repair Cafes are designed to reduce waste by helping people repair things that they might otherwise be forced to throw away, and to help us all learn those often forgotten skills that our parents and grandparents had."
Future Repair Cafes are planned for Handforth (St Chad's) on 28th March and 20th June at St John's Lindow.
If you would like to volunteer as a repairer or to help with the café at these events, please contact transitionwilmslow@gmail.com.
Tags: