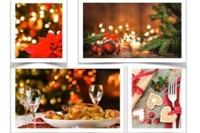 Christmas Day arrived, but so did my continuing flu bug. I had been given an invitation to attend a Christmas Day lunch for older people, who would be alone on that day. I was so disappointed I could not attend.
The lunch was to be held at the Wilmslow Guild and run by a large number of volunteers The care and hard work organising the event must have been tremendous. Not only the preparation of the hall and the food, but done by people who had given up their Christmas Day to look after strangers.
Reluctantly, I had to phone Lucy, who was to have given me a lift to the Guild, explaining my dilemma. Imagine my surprise when Lucy arrived much later, armed with a bag of goodies. She had brought a foil dish, containing a Christmas dinner. There was also a bunch of flowers, a bottle of wine, mince pies, chocolates, and a tin of chocolates with my name printed on the wrapper. Not only that, there was also a parcel with three gifts; a pair of gloves, a box of three hand creams, and a sterling silver chain, holding a pearl and diamanté pendant. All the food and gifts had been donated.
There was also a card from the volunteers and one from the children of Lindow School. That was hand made and written by one of the children, wishing a happy new year and sending 'an amazing smile'. It not only made me smile, but very happy.
I was overwhelmed by the kindness and care shown by this group of volunteers, who had offered their services, not only to help with the organisation, but to ferry people to and from the event. This had been the brainchild of a lady named Yvette Royle, who had worked tirelessly, by asking for volunteers on social media. She was inundated with offers.
I expected to be alone, but it is one of my best Christmas Day's, made special because of the kindness of all those 'angels'. I'd like to give them a big hug and send my love and gratitude. I am sure that all the people who attended the event would wish to express the same.
Tags: