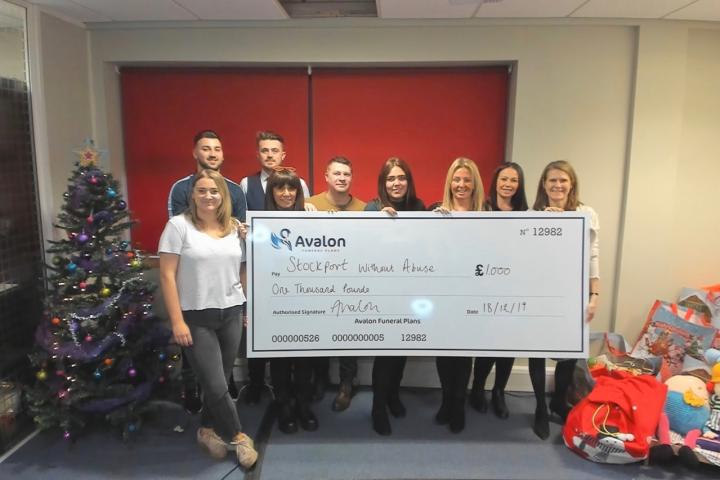 Promotional Feature
The UK's most trusted funeral plan provider* Avalon Funeral Plans, has donated £1,000 and a collection of festive toys, gifts and clothes to vulnerable individuals in the local area.
The initiative has taken place in partnership with Stockport Without Abuse, a charity that offers a range of services to help support women, men and children who are affected by domestic abuse.
The charity was nominated by Avalon's Cheshire-based contact centre team and is the first in the company's new local support initiative - a scheme that aims to help local charities throughout the year.
Employees from across the company teamed up to collect as many festive gifts as possible in support of individuals and families who are reliant on the generosity of the charity over the Christmas period.
The launch of the initiative follows a period of great success and growth for Avalon, which recently took home the coveted title of 'Best Funeral Plan Provider' at the 2019 Personal Finance Awards, recognised for its dedication to its customers, as well as the high standard of its service. Over 20,000 consumers voted in the awards this year based on their experience of outstanding products or customer service in the industry.
Speaking about the scheme, Avalon's CEO, Susan Stevenson, said: "Providing peace of mind for thousands of families is at the very heart of our company ethos, and we want to support local charities that share that same goal.
"It's that time of year when people are Christmas shopping for loved ones and deciding what they would like most, but not everyone is quite as fortunate. This Christmas, there will be men and women staying in domestic abuse hostels, struggling financially to buy their children clothing or toys for Christmas.
"Charities like Stockport Without Abuse carry out amazing work to support people in need and it's for this reason that we nominated the charity to be the first in our new initiative to support charities local to us."
Naz Ghodrati, CEO of Stockport Without Abuse, said: 'We are so grateful to Avalon Funeral Plans and their generous support of Stockport Without Abuse. The majority of victims of domestic abuse leave their homes with no personal items and won't be able to spend time with their families due to the potential risk of violence. This will provide essential support to the families and allows children to participate in festivities in a highly stressful situation.'
Avalon has over 25 years' experience providing funeral plans for more than 70,000 customers and is the fastest growing funeral plan provider in Europe. The company works with a network of 1,800 local, independent funeral directors across the UK, so families always have support closeby.
Regulated in the UK by the Funeral Planning Authority (FPA), Avalon employs more than 200 people at its offices in Cheshire, Spain, The Canaries, Portugal and Cyprus.
An Avalon funeral plan provides peace of mind that you will be remembered how you want to be. For more information visit www.avalonfuneralplans.com.
*Based on over 2,000 TrustPilot reviews