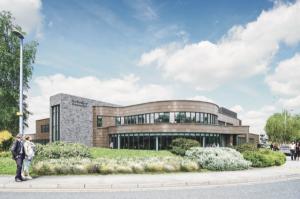 Promotional Feature
This year, The Christie charity launched a major new fundraising appeal to raise £23 million to build a state-of-the-art new cancer centre in the heart of East Cheshire. The Centre will be built in the grounds of Macclesfield District General Hospital, providing Christie cancer care closer to home for more than 1,500 patients a year.
Instruct Jackson-Stops Alderley Edge to sell your home in December, January or February and they will donate 3% of their fees to The Christie at Macclesfield Appeal.
The new centre will transform cancer care in East Cheshire, bringing together essential cancer services into one purpose-built unit delivering local specialist access to radiotherapy, chemotherapy, holistic support and information services, outpatient care, palliative care and clinical trials.
Crispin Harris, director of Jackson-Stops Alderley Edge, commented: "With one in three people in the UK affected by cancer, it's a disease that requires pioneering research in order to investigate and discover treatments.
"Having a new centre in the heart of Cheshire will mean that thousands of patients can receive essential services closer to home, rather than having to travel to Manchester.
"Donating 3% of fees from all of our new instructions in December, January and February is a small way that we can contribute to this life saving centre and we're delighted to be able to help."
To discuss the marketing of your home please contact the Alderley Edge branch on 01625 540340 or email alderley@jackson-stops.co.uk.