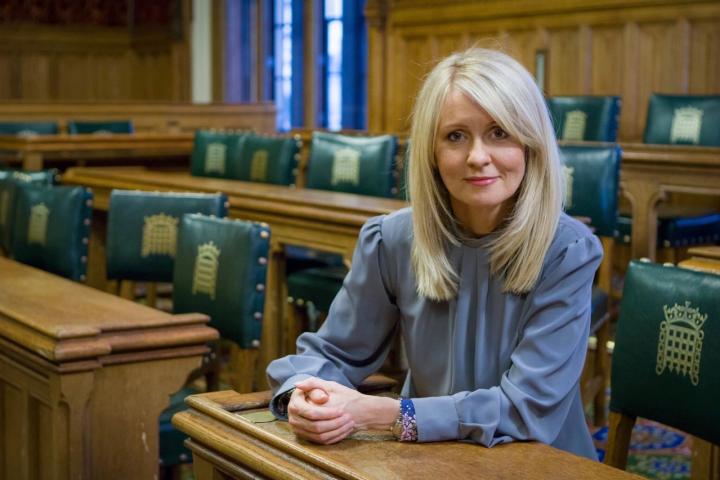 Esther McVey has been re-elected as the MP for Tatton with 57.75% of the vote and an increased majority.
Ms McVey took the Tatton seat an overall majority of 17,387, which was 2,900 more than on 2017.
The turnout was 71.21% in what is historically a Tory stronghold.
Tatton MP Esther McVey said: "I am delighted the people of Tatton put their faith in me once again to represent them, which I hope they know I will do to the very best of my abilities.
"Having ensured Cheshire schools and policing got extra funding, I want to ensure the extra money works for Tatton. I campaigned successfully for a full review of HS2 and will continue to work with locally affected residents. Good local transport is vital and that is why I will be pushing for a better transport services, local bus services are crucial as a reduction in buses disproportionately affects the most vulnerable. We also need more reliable local trains with the promised second train an hour from Northwich to Manchester and we need to improve our local roads – ensuring we get our fair share of the money allocated nationally to repair potholes.
Ms McVey added "Many people did not want a General Election and it was a difficult campaign for everyone working really hard in winter months but Parliament was in deadlock, we were not moving forward and speaking to people across the constituency they knew we had to get past this impasse, so we could unlock Britain's potential and deliver on crucial domestic policies which matter to everyone and their families.
"We need to deliver on the biggest ever democratic vote of our time but we have to remember while 52 per cent of people voted for Brexit, 48 per cent did not and we have to ensure the deal is best for the UK.
"I have been in the Cabinet as a Secretary of State before, and I always come back home here. I live here with my family. I understand my foundations are Tatton, I'm housing minister now and attend Cabinet now, but I'm always back here for my surgeries to meet with people, to hear what's going on, on the ground, and work with people, and first and foresmost I am the MP for Tatton and I will never take it for granted.
"My team has been fantastic, organising, helping, knocking on doors, stuffing envelopes.
"But more than anything once you've got a really happy, vibrant team and people wanting to join your team you know you're doing the right thing.
"They are all amazing, it's a real spread of people and they've just done so much."
Esther McVey was up against Nigel Robert Hennerley (Green Party), Jonathan Paul Smith (Liberal Democrat and James Martin Owain Weinberg, (Labour Party).
2019 General Election Results: Tatton constituency
Conservative Majority 17,387 - 57.75%, Turnout 48,967 - 71.21%
Nigel Robert Hennerley, Green Party 2,088 votes, 4.26% share
Esther McVey, The Conservative Party. 28,277 votes, 57.75% share
Jonathan Paul Smith, Liberal Democrat 7,712 votes, 15.75% share
James Martin Owain Weinberg, Labour Party 10,890 votes, 22.24% share
2017 General Election Results: Tatton constituency
Conservative Majority 14,487 - 58.6%, Turnout 48,092 - 72.4%
Esther McVey – Conservative Party 28,764 votes, 58.6% share
Sam Rushworth – Labour Party 13,977 votes, 28.5% share
Gareth Wilson – Liberal Democrat Party 4,431 votes, 9% share
Nigel Hennerley – Green Party 1,024 votes, 2.1% share
Quentin Abel – Independent 920 votes, 1.9% share
2015 General Election Results: Tatton constituency
Stuart Hutton UK Independence Party 4,871 votes
George Osborne Conservative 26,552 votes
David Pinto-Duschinsky Labour 8,311 votes
Tina Rothery Green Party 1,714 votes
Gareth Wilson Liberal Democrat 3,850 votes
2010 General Election Results: Tatton constituency
Sarah Flannery Independent 2243 votes
Michael Gibson The True English (Poetry) Party 298 votes
Richard Jackson Labour 7803 votes
David Lomax Liberal Democrat 10,200 votes
George Osborne Conservative 24,687 votes
Tags: