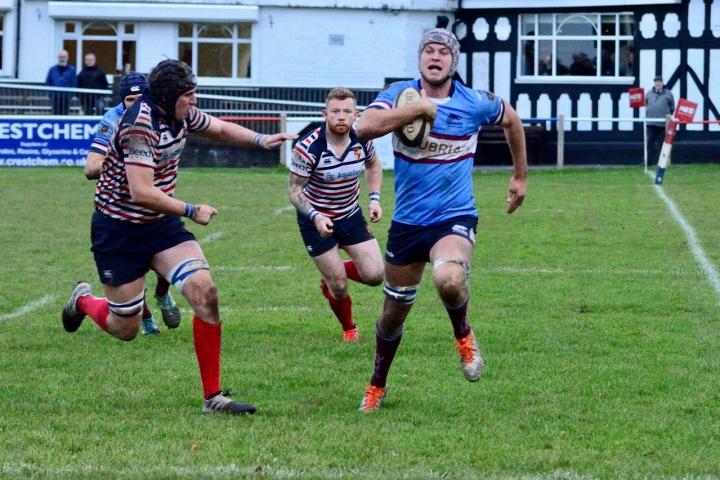 Saturday 7th. December 2019
North 1 West
Birkenhead Park 22 – 24 Wilmslow
In the end it was strength of character, willpower and a never say die spirit which enabled the Wolves to hold on for five more league points against their closest challengers at the top of the North 1 West League. If you had been expecting a close hard fought tense encounter, befitting a top of the table clash, then you wouldn't have been disappointed
In the face of relentless attack from Birkenhead Park in the final, seemingly interminable, play of the game, the Wolves defence was just heroic. Park threw everything they knew at Wilmslow for the single score which would have tied it up for them.
Their forwards, as they had done all afternoon, drove again and again, wedged together in a kind of medieval phalanx and when they stalled, the cavalry in their backs tilted their lances and charged at Wilmslow's blue line. It wasn't for bowing, the tackles just flew in and when one man was stopped, the tackler just got to his feet and covered across to take out the next one. It was one for all, all for one amidst a backdrop of high drama but in the final analysis, you just wonder how Park failed to get that winning score.
They created plenty of chances for themselves, not least when they spurned a very kickable penalty in this final phase. Why on earth didn't they take the three points on offer and settle for a four point league win? Had their thinking fallen victim to 'White Line Bonus Point' fever? If the roles had been reversed, what would Wilmslow's Bob MacCallum have opted for?
Once again, coach Chris Jones had had to wrestle with a lengthy list of injuries. By his reckoning, eleven of his squad could not be considered for selection but there is more strength in depth at the club this year, witness the second string Vikings carrying all before it.
On paper it didn't quite look the Wolves strongest selection but with Street, MacCallum, Harding, Day and Coulthurst in the back line, there was still plenty of potent running fire power, which was to prove decisive. A word too for Harry Patch, who had answered the call from afar for an all too rare appearance. Up front the smallest man of all, Conor McMurdock, playing at hooker was simply outstanding in everything he did. The front row was up against arguably the strongest and heftiest pack in the league. Ms. Taher, Parker and Stockwin all acquitted themselves with distinction and there were no slouches in the back five either.
Coach Chris Jones was full of admiration for his players afterwards. 'Performances like that, he said, just don't happen by chance. It was testament to all the hard work and effort from the players since last summer. Their defence has been getting stronger week by week but on this occasion it was unbelievable.'
But it didn't start at all well. Within a minute, the Wolves had meekly coughed up possession at the breakdown, which should have been much more secure than it was. Park then got the benefit of the bounce of the ball and a delicate cross kick by their scrum half Sam Orr sat up perfectly for right winger Sam Tyrer to gather the ball and from just a metre or so to touch down.
Wilmslow's ball retention continued to be insecure in the tackle and at the breakdown but on the half hour it all came together when left winger Jamie Kingdon breached the home defensive line and when the ball was recycled, centre Ethan Harding's judgement to straighten the line was spot on and his perfectly timed pass to Ben Day gave the outside centre all the space he needed to run in for the equalising score, converted by MacCallum.
Moments later Park were awarded a penalty in mid field and from the ensuing lineout, they drove and picked and drove again to regain the lead, lock jack Ashcroft touching down. It was then the Wolves turn to show that they also knew how to score from a close in lineout as they worked one of their favourite front of lineout moves to put Alex Taylor over in the corner for twelve apiece at half time.
The second half got underway in much the same vein. Park tended to rely on their pack to bludgeon its way up the field, whilst the Wolves would counter with enterprising penetrative running from their backs. Park went ahead again, when they opted for three points from a penalty. This was followed by an excellent piece of handling by the Wolves, backs and forwards alike, which ended with lock Seb Pemberton running clear down the left wing for an inside floated pass that saw scrum half Sean Street cross unopposed.Cue for Park's forwards to force themselves over from yet another of their well drilled forward drives, flanker Sean Mooney getting the try.
Once again though, the Wolves responded by running and punching hard at the Park defence and when it opened up, Street was off again for the fourth try. Mauled again by these opportunistic Wolves, Park raised the tempo and the Wolves had to dig deep to keep them at bay. They then nearly had a fifth try, which would have put them out of sight when Street broke away again from half way but he knocked on when trying to collect his own kick ahead at full gallop.
And so to the final pulsating play of the game. Park were on their own line but they worked their way slowly down the field, making no mistake which would have been terminal. They lay siege to the Wilmslow line, got awarded a couple of penalties when the Wilmslow defence was forced to infringe but when they finally got turned over on the Wilmslow line after a multitude of phases and the ball was blasted into touch, the local referee, Jimmy Taggart, making no new friends at Park, blew for no side.
It had been a real top of the table encounter between two sides, both show casing their respective strengths. Park though will be kicking themselves for not taking the opportunity but in mitigation, they were up against a Wilmslow side, who have only once failed this season not to score at least four tries and whose defence must now be one of the hardest in the league to break down.
Chris Jones soon turned his thoughts to the visit of Keswick next week. 'That now becomes the most important game of the season, he said, they're a proud club, they have nothing to lose and they'll be up for it'.
Photo: Left winger Jamie Kingdon takes on Park full back Dave Hall.
Match report by David Pike.
Tags: