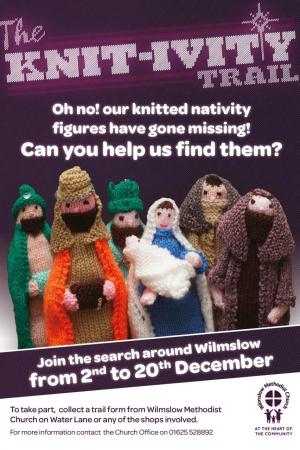 Wilmslow Methodist Church is running a knit-ivity trail in in the town centre in the run up to Christmas designed as a fun family activity involving local shops and community.
The church's knitted nativity figures have gone missing and they need to locate them before their Christingle Service on Christmas Eve!
Emma Coe, Family and Outreach Worker said "Wilmslow shops and businesses on Water Lane and Grove Street may be able to help, but we don't know which figure is where. 
A clue to help you find them... look for the posters in the shop windows. Trail forms are available in the participating shops and also from the church office. When you find a figure just write the character name on the form against the business you found it in. Have fun!"
The trail runs from Monday 2nd Dec until Friday 20th Dec. If you want to be considered for a prize draw return completed forms to Wilmslow Methodist Church by Friday December 20th and the winner will be announced during the Christingle Service on Tuesday 24thDecember 2019 at 4 pm.