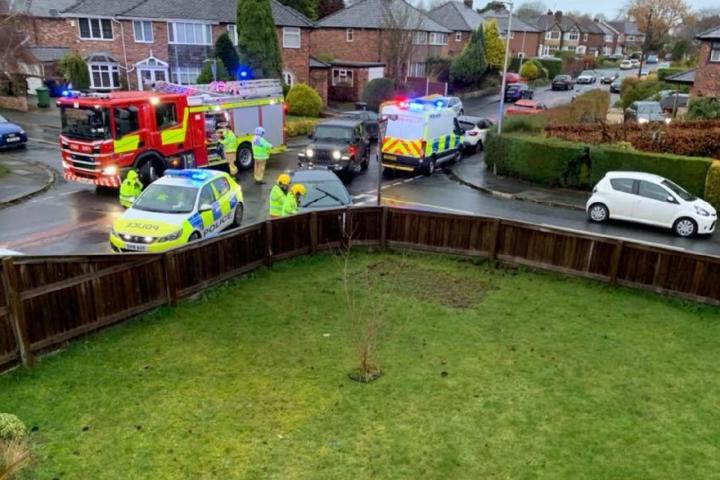 Local residents are calling for the council to take action to address the dangerous parking on Buckingham Road following a recent accident.
Two fire engines were called to a two-vehicle collision at the junction of Westward Road and Buckingham Road at 3.30pm on Thursday, 28th November.
Fortunately on arrival crews discovered that no-one was trapped inside either of the vehicles which they made safe.
Firefighters assessed a female casualty and assisted police with traffic management.
Speaking about the accident Jacque Bilsborough said "Most people know of the danger involved driving down these roads and manipulating the junctions involved. We are knee deep in parked cars, some left all day in a dangerous place.
"Do you think that Cheshire East will not only take note but finally give us double yellow lines at every junction so drivers and pedestrians have visibility to cross safely?"
A spokesperson for Wilmslow Firestation said "People who work in Wilmslow Town need to be more considerate for emergency services vehicles as well, we have had issues with the roads that run off Altrincham Road in the past."
Other local residents commented on the Wilmslow Hub Facebook page:
"This has been an accident waiting to happen for a long time. People park so irresponsibly, right on the junction and make it impossible to see when you are pulling out. I do hope everyone involved is okay."
"The answer is not yellow lines because that is treating a symptom not the problem!Maybe the answer is an out of town car park with shuttle buses in to town for all the commuters. They could charge any businesses over say 5 employees a special parking tax if they don't provide a staff car park or rail/bus passes for staff?"
"I have been saying for at least the past year that the situation on that road is going to cause an accident. My only surprise and relief is that it wasn't a child stepping out from Gorsey Bank. I understand that CEC has limited funds, but I do wonder what the cost of extending junction protection double yellow lines is over multiple emergency vehicle call outs?"
Jules Abbot addressed local councillors to ask "Do we have to wait until someone is killed or seriously injured before CEC will provide the parking solution this town desperately needs. I have spoken to you and CEC Highways many times and they can only carry out a feasibility study.
"Buckingham Road is one way, people fail to give way to each other and play first to blink, people cannot safely pull out from the side roads as their view is blocked. Now I see there are plans for a new hotel in the centre, how does this fit in with the Neighbourhood Plan with sustainable parking provision. This problem is killing the town."
Councillor Dave Jefferay responded "I know it isn't what you want to hear but I've seen the draft of parking survey report and it's going to be a while until there are yellow lines on Buckingham Road. We all know how bad it is but a) there was nowhere near consensus in the survey on what to do down Buckingham road so there was a high risk that restrictions proposals wouldn't pass consultation (I know that sounds daft) and b) the council cannot put lines down until there is somewhere for all those cars to go, which the council is working on. I know you all think they should get on with building it but the council has limited funds (and when I say limited funds I mean no funds) to do it so they have to make the case to borrow it to invest.
"I'm waiting to hear where they are up to on it but I am hoping the business case will be done ready for the design work to be done in the next financial year. However, even, assuming we get the go-ahead (and it is looking very positive), I know it isn't what you want to hear but we are talking years not months before it is built. Feel free to shoot the messenger, it's part of my job."