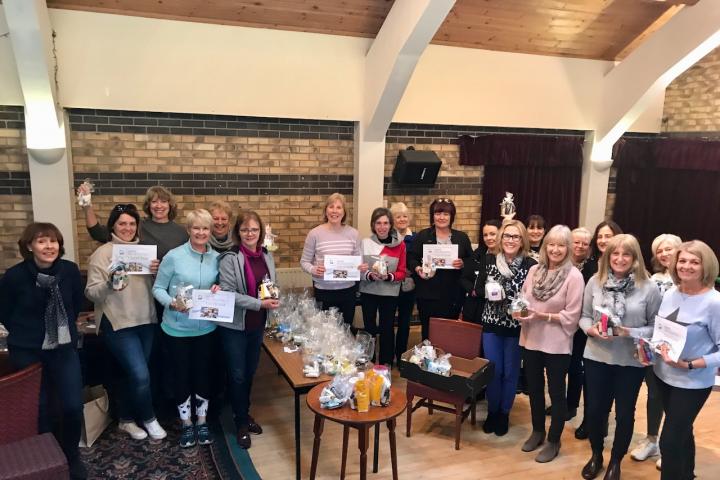 A local toiletry bank held its winter Operation Miniature last week which was hailed a huge success with over thirty women turning up at Wilmslow Conservative Club where the function room was turned into Operation Miniature's HQ for the day.
Only four months since Bare Necessities' summer event, the charity has amassed six dustbins of hotel minis, samples and testers all donated by local people.
These were re-purposed by a determined team in an equivalent 120-hour marathon sorting, categorising and making-up session, which yielded a total of 338 Bare Necessities bags. Of these, 283 are the charity's esteem boosting, beauty treat bags which are sent to the women the charity supports and 55 are crisis packs destined for street homeless.
The event was very timely, allowing the charity to respond to Stockport Women's Centre which supports vulnerable and marginalised women and which will immediately receive 150 beauty bags just in time for Christmas. Most of the crisis packs, which contain enough basics for five days, will be going to the Christmas collection at Wilmslow Parish Hall in aid of deprived and homeless members of our community.
Wendy Hobson of Bare Necessities told us; "It's very rewarding to see such a huge quantity of minis being re-purposed in this way. By turning these 'bathroom cloggers' into our packs we give confidence and a much-needed esteem boost to 338 lives."
A sentiment echoed by Operation Miniature volunteer and local Wilmslow resident, Vicky Hillhouse who said "It's so great to see the mini toiletries transformed in this way. We probably all bring them home and then forget about them. This way we know they are being put to good use in our local community."
Bare Necessities Toiletry Bank was founded by two Wilmslow women to collect and distribute toiletries within the local community to help alleviate hygiene poverty experienced by those in financial crisis.
At present Bare Necessities Toiletry bank supports four food banks; Foodfriend at St Bartholomew's Parish Church Wilmslow, The Red Bin at St Philip and St James' Parish Church Alderley Edge, The Trussell Trust's Stockport Food Bank and Hope Central at St Chad's Handforth. It also supports The Wellspring Stockport, Smartworks Greater Manchester, Stockport Without Abuse Women's Aid Refuge, The Greater Manchester Women's Support Alliance and The Riverside Accommodation Project Wilmslow.
Collection bins are located throughout the community and are guest hosted on a campaign basis by local businesses and groups. Bare Necessities Toiletry Bank needs all full-size, everyday toiletries, feminine hygiene products, dental and baby products as well as hotel and beauty miniatures. The only proviso is that they must be unopened and unused.
Tags: