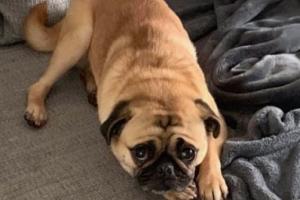 The owners have yet to be found of an adorable pug that was found tied to a tree in Wilmslow on Tuesday, 19th November.
Lukas Rabin discovered the dog at 7.15am in The Villas park and took it to the vet but unfortunately it isn't chipped so they have been unable to trace the owners.
Lukas said "He's safe, warm, being well fed, cuddled and currently playing with his new reindeer toy.
"No one has come forward as yet for this lovely dog. The warden has visited and checked him over (as well as 2 different vets), definitely isn't chipped. He is staying with us for (at least) the 28day period when he will be eligible for adoption.
"It is really important still to find out anything we can about where he may of come from. Also if you know anyone who has CCTV footage covering Alveston Drive, Wilmslow I'd be eager to see it.
"He's settled well and is so well behaved, you won't be surprised to hear we've already fallen madly in love with him and have a friend for life whatever the outcome."
Please email admin@wilmslow.co.uk or use the comment box below if you can assist with finding the owners.