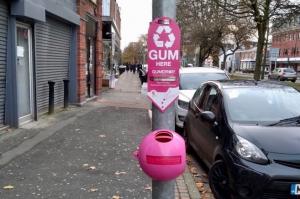 Many local residents will have noticed the little pink balls which have been popping up around the town over recent days.
These are the latest local initiative to help improve the appearance of the town and fight the blight of chewing gum on our pavements
Following on from Wilmslow being awarded 'Plastic Free' status, the Town Council has followed the example of forward-thinking universities and other towns in trying to change consumer habits.
Chewing gum contains a butadiene-based synthetic rubber element preventing it from biodegrading quickly which means that it can stay on our streets for up to 5 years if not disposed of appropriately. However it can be a very useful product and shouldn't simply be sent to landfill in a normal bin.
The Gumdrop initiative is a self-contained full-circle recycling scheme whereby the entire sealed gumdrop unit is recycled to produce new gumdrop units along with a range of other items such as pencils, cups and rulers.
Martin Watkins, Chairman of Wilmslow Town Council, said "Wilmslow Town Council is working with Wilmslow High School and Town Centre businesses to highlight to chewing gum users the benefits of disposing their gum in a responsible way and it is hoped that these pink additions to Town Centre streets will encourage participation."
He added "Once the scheme is established the Town Council will assess its success before considering committing to cleaning existing gum off the pavements. Additionally, if the gum recycling scheme is a success then the street gum litter may be reduced thereafter making the cleaning of the pavements more effective in the long-term."