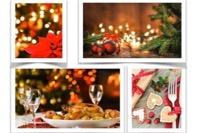 A large group of volunteers are reaching out to anyone over the age of 65 years who is facing Christmas Day alone.
Wilmslow pensioners are being invited to enjoy a free 3 course Christmas Day lunch and two hours of festivities at Wilmslow Guild.
Organiser Yvette Royle said "I want to help make a small difference to the lives of lonely pensioners in our community and make their Christmas Day truly magical especially if they would normally be on their own.
"There will be music and lots of laughter all hosted by myself and lots of wonderful local volunteers with hearts of gold."
Organisers are also offering a pickup and drop off service.
Tickets are free of charge but limited to 50 people. If you would like to join them email Yvette Royle or call 07900 805634.