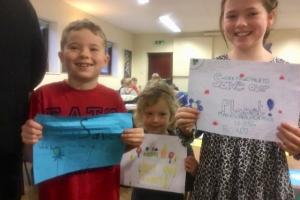 Climate Conscious Wilmslow held their first letter-writing event which proved very popular on Saturday, 9th November.
Over 70 people of all ages came together to write letters and draw pictures asking the future Tatton MP to prioritise the climate emergency once they are elected.
Lisa Johnson, the group founder, said, "I know there's a perception that people in Wilmslow don't care about climate change and the environment, and that we all drive round in gas-guzzlers, but that's not true at all - there's a huge amount of people here who are very concerned about the government's lack of action on climate change. The current government declared a climate emergency back in Spring but have done very little to put steps in place to stop global temperatures rising. It is heartwarming to see so many people here today who actively want to tell the government to do more."
Children as young as three came along to the event and drew pictures of bees, polar bears, rhinos and other animals that are in danger of becoming extinct because of climate change.
Attendees wrote about their concerns over the expansion of Manchester Airport, lack of local tree planting schemes and the need to reinstate Lindow Moss, whilst one mum simply wrote, "please can you spend as much time and effort focusing on climate change as you do on Brexit? It is much more important".
Ewan Houldridge, Wilmslow's own apiarist (beekeeper) and teacher of apiculture said, "I am really seeing the problems the climate change is causing pollinators. If it's not problems with forage it's problems with fertility.
"Can you believe that I lost 9 queens last year due to the weather! It's going to cost me £2300 next year to try and combat the problem for the last 3 years!"
In a week that has seen terrible flooding in the north, Florence Collier from Transition Wilmslow said, "In Wilmslow, gardens and green spaces are being sacrificed to building overpriced luxury homes with no public infrastructure; roads are choking with our direct emissions; local independent businesses can't compete with High Street retailers and chains, all contributing to an unsustainable carbon footprint. We fear for our children's future as we perpetuate unhealthy lifestyles that exacerbate climate change, resulting in freak weather events and the extinction of our most precious ecosystems."
The group intends to present the letters and their big green petition to all the Tatton candidates before the election on 12th December.