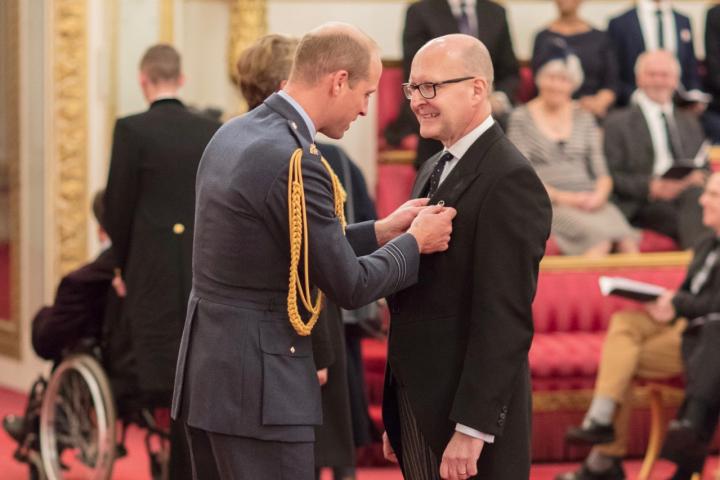 A Wilmslow solicitor, Marcus Hayes, received his MBE at an Investiture at Buckingham Palace last week.
Marcus was awarded his MBE in the Queen's Birthday Honours list this year for services to the law and to education.
Marcus is a specialist telecoms litigator who regularly acts for prominent public and private concerns and high net worth individuals both in the United Kingdom and overseas. In 2013, he was one of only ten solicitors out of the 131,000 practising solicitors in England and Wales to be shortlisted in the category of Solicitor of the Year at the National Law Society Excellence Awards.
In 2015, he was runner up in the same category and also that year won the A1 Legal Award for the best telecoms litigator in the United Kingdom. He was also again this year shortlisted for Solicitor of the Year at the National Law Society Excellence Awards. Since 2010, Marcus has worked with the Government on a variety of its potential commercial and civil justice reforms.
Having carved out a successful career in the law, Marcus went on to establish the Mason Hayes Charitable Trust in 2009. Focusing on improving the learning experience and performance of students from disadvantaged backgrounds or with special needs, the Trust for over a decade has provided financial and personal development support, mentoring and work placement opportunities to those who need it most in a variety of educational establishments from primary schools to universities.
In recent years Marcus has regularly met Ministers, Civil Servants and MPs as he continues to tackle aspirational and educational inequality. One of those universities, Sussex University, awarded Marcus a University Fellowship in 2014 in recognition of his exceptional contribution to the university.
Commenting on his visit to the Palace when he was accompanied by his mother, his wife Catherine and his daughter Claudia, and the receipt of his MBE from HRH the Duke of Cambridge, Marcus said that he felt "truly humbled at receiving the honour". He added: "The Duke of Cambridge was particularly charming and interested in the work of the Charitable Trust and how it has helped for over a decade, legal students across the United Kingdom fulfil their dreams, aspirations and ambitions in the law. It was also a tremendous privilege to have an opportunity to speak to many of the other recipients of awards during the day, that ranged from sportsmen like Geraint Thomas through to outstanding individuals in Government, film and the Armed Services. It will definitely be a day I will remember for a long time."
Photo: Marcus Hayes MBE receiving his award from HRH Prince William, the Duke of Cambridge.