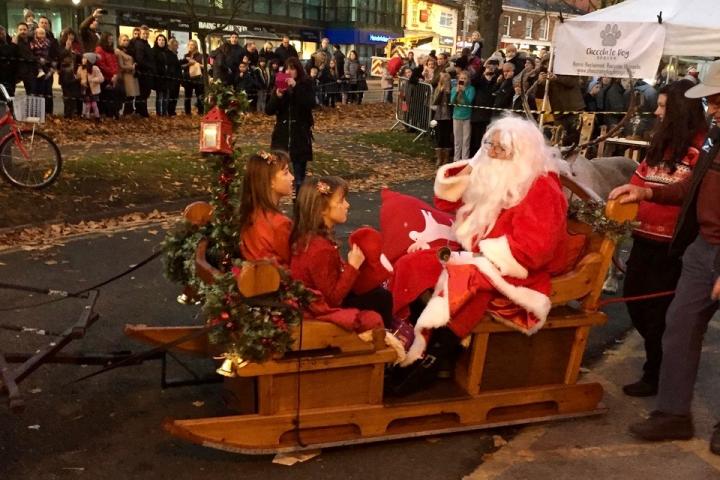 The Wilmslow Christmas switch-on will take place on Saturday 16th November to coincide with the Artisan Market which will have a special Christmas theme.
The day will start when the market opens at 10am along Alderley Service Road and the reindeer, who are due to arrive at around 2pm, will assemble behind the Artisan Market near to the library.
The stage will be back at Bank Square this year where there will be performances by Stagecoach, Destiny Choir and two Wilmslow primary school choirs.
The reindeer parade will set off from the library at 4pm passing through Romany's Garden, along the footpath beside the Artisan Market before turning and making its way down Grove Street.
Denise Valente said "The Market Co is thrilled to be part of the annual Christmas Lights Switch On again. Our visitors love the combination of the Wilmslow Artisan Market as well as the reindeer parade and lights.
"The market will be running to 5pm so you'll be able to watch the reindeer parade as well as pick up a few items before the big switch on."
Cllr Martin Watkins (Chairman of the Town Council) said "We sought and received lots of feedback from the public as to how we could enhance the switch-on event. The overwhelming message received was to retain much of what has proved very popular over recent years, notably the reindeer parade and school choirs on the stage.
"We were delighted that it was possible last year to tie in with the Artisan Market and this proved highly successful in widening the event's appeal and are therefore delighted that the market will once again form an important part of the switch-on festivities for 2019.
"As a Town Council we place a lot of investment in to the Christmas lights and have once again enhanced the lights for 2019 giving a wider spread in the Town Centre as well as introducing lights to the commercial area of Chapel Lane.
"I hope that the day proves to be even more popular than in previous years and that the switching on of the enhanced Christmas lights will herald the beginning of a successful festive period for the businesses of the town."
The light switch on will take place at approximately 5pm.