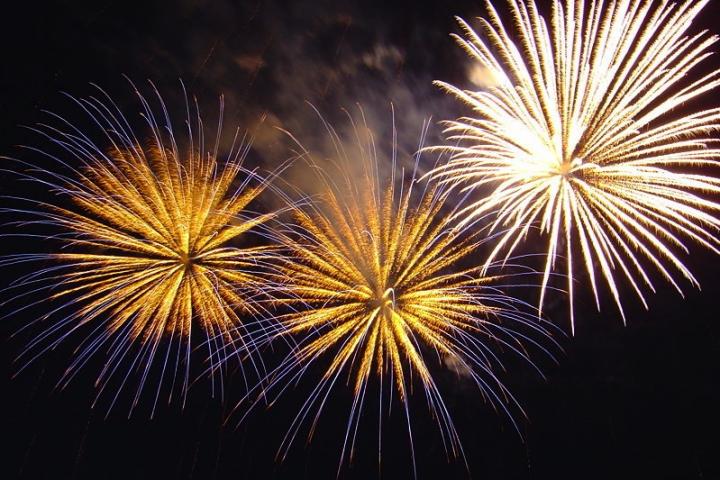 The ever popular Wilmslow Bonfire and Fireworks event will take place on Saturday 2nd November and includes a bonfire and children's firework display followed by the main fireworks display.
In addition, visitors to the charity event can enjoy fairground rides and a selection of refreshments, including hot dogs, burgers, chips, fresh doughnuts and mulled wine. Sweets, toffees, popcorn, candy floss and cold drinks will also be available from the sweetie tent.
A free park and ride scheme will operate from Broadway Meadow Car Park (adjacent to Wilmslow Leisure Centre). Buses will leave the car park at regular intervals during the evening, starting at 5.30pm, and will drop you off at Carnival Field. Buses will be available for the return journey until 9.00pm.
Wilmslow Bonfire and Fireworks Night is a charity event organised by Wilmslow and District Round Table in association with Ladies Circle and other local organisations. The proceeds of the event will be used for various charitable donations.
Gates will open at 5.30pm and the bonfire will be lit at 6.30pm. The firework display for small children will start at 7pm, before the main firework display starts at 7.30pm.
Tickets can be purchased in advance online or on the day. Advance tickets cost £5 per child, £8 per adult and £22 for a family (2 adults, 2 children). Tickets purchased on the day are £7 per child, £11 per adult and £27 for a family (2 adults, 2 children).
Advance ticket prices are available until Friday 1st November and can be purchased online.
On Sunday 3rd November, Alderley Edge Cricket Club will host their annual fireworks display. There have been a couple of changes to the previous years, in that there will be an earlier (less noisy) children's display and a new VIP seating area.
The gates will open at 4.00pm and the children's firework display will take place at 5.30pm followed by the main event at 6.30pm.
John Berry, Manager of the Cricket Club, said "We look forward to hosting this annual village event that is always a remarkable display for all the family. We hope that the earlier display will encourage families with younger children to attend.
"The Cricket Club has been organising this event which is now in its 14th year and is always a very popular night culminating in a spectacular firework display with the Edge as a backdrop."
Families can enjoy a children's funfair, various catering options and an outside bar serving mulled wine and beers.
Tickets can be purchased at a discounted price online or from the clubhouse prior to 3rd November. Family tickets (two adults and two children under 16 years) are available for £22, adult tickets are £8 and £5 for children. The limited number of VIP tickets are £20 per head and include a mulled wine.
Tickets can be purchased on the night at a cost of £10 for adults, £7 per child and £30 for a family ticket.
For further information call 01625 584733 or email john.berry@aecc.org.uk.
Then, back by popular demand, Alderley Edge Community Primary School is hosting their annual family friendly professional fireworks display on Friday 8th November.
There will be plenty to enjoy for the whole family including fun fairground rides, hook a duck and a bouncy disco dome before the fireworks start.
Mrs Walsh, Head Teacher, explains, "As a Community School, we have in our school aims to ensure that we remain at the heart of the local community to maximise opportunities for our children and the families of the village for mutual benefit. The school firework display is one way that we can bring all members of the Alderley Edge Community together in a safe and secure way for the benefit of all. We are delight to be holding this event again this year and extend a welcome to everyone from Alderley Edge and the surrounding area to join us at the firework display."
Hot drinks will be available including mulled wine and hot chocolate, alongside a licenced bar, hot food and a tuck shop.
Gates open from 5.30pm. Tickets on the gate are £5 per child, £8 per adult or £22 for a family ticket (max 2 adults and max 5 people).
The money raised will go towards the school MUGA (Multi-Use Games Area) fund. Entry to the Fireworks Display will be on Church Lane and Eaton Drive.