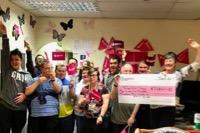 A charity which has supported adults with learning difficulties for over 17 years in Alderley Edge, Handforth and Wilmslow is celebrating after a successful bid application to the National Lottery Community Fund.
The Time Out Group has secured £212,000 to cover a three year period to work on a new project called Get Up, Get Out. This project involves encouraging members to integrate within their own communities, looking at employment opportunities, additional sporting activities and supporting members with clear mental health pathways which in turn offers more choice and control over their own lives and encourages independence.
The Time Out Group currently operates from a base in Handforth, offering drop in sessions and sporting activities. This funding means they will be able to extend their activities and offer something different such as pop up discos and links with community partners.
Joanne Adams, Time Out Group Manager said "We are so pleased for this major win for the members and their families. This funding will secure the charity into the future and offer opportunities within the local community. The team worked so hard in pulling the bid together and I am extremely proud of the outcome. We encourage independence to our members and support to their families, we also offer volunteering and employment opportunities so watch this space."
Clive Scollon, Chairman of the members committee, said "This means the world to us all and we can now get excited for the future and all fun we can have. We love TOG and are happy with this result; we will plan all the activities and help make the charity a success."
Tags: