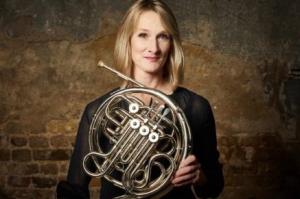 Wilmslow Symphony Orchestra are preparing for the first concert of heir 73rd season when they will be welcoming two distinguished visiting artists, the talented young Portuguese conductor Rita Castro Blanco, and the horn soloist Naomi Atherton.
Ever since she won the Brass Final of the Young Musician of the Year competition in 1984, Naomi has been much in demand as soloist, chamber musician, and orchestral player, and holds Principal Horn posts with Manchester Camerata and the Northern Chamber Orchestra. She has played with many of Britain's leading orchestras, including the Royal Philharmonic, the Royal Liverpool Philharmonic and the Scottish Chamber Orchestras, and has appeared at the Edinburgh, Bath, Cheltenham and Aldeburgh festivals and at the BBC Proms. She will be the soloist in Mozart's much-loved Horn Concerto No. 3.
Dermot Gault said " The main work is Dvorak's passionate Seventh Symphony, a work which many listeners feel is as great as anything he wrote, but we begin with the open-air sturdiness of Sibelius's Third Symphony, one of his shortest symphonies, but still as much of a challenge (for us!) as anything else he wrote.
The concert takes place on Saturday 19th October at 7.45pm in the Evans Theatre at Wilmslow Leisure Centre. Tickets costing £12 (concession £10, Under 18s £2) can be obtained from the Ticket Secretary (01925 756 144), at Bang & Olufsen on Alderley Road, at Therapy on Bank Square or at the door.