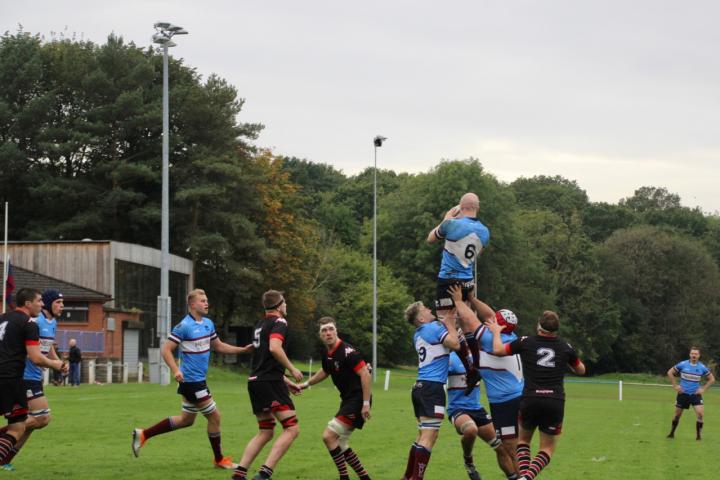 Saturday 5th. October 2019
North 1 West
Wilmslow 28 – 15 Altrincham Kersal
The Wolves were made to work very hard by a competitive Altrincham Kersal side for this win. Four tries from Adam Taher, Adam Hewitt, Sean Street and Sammy Graham earned them five league points which sent them to the top of the league. AK will count themselves unfortunate to have come away without even a losing bonus point.
Only six points separated the teams as the game entered its final quarter but the Wolves had been mounting up the pressure for most of the preceding quarter without being able to finish anything off.
Once again, their defence and aggressive tackling was forcing their opponents, stuck in their own twenty two, into hopeful clearing box kicks, which were just swallowed up by the Wolves back three, in particular full back Ben Day.
Day knows a thing or two about how to initiate a counter attack and twice just after the hour mark, he got the Wolves on the front foot with his powerful running, which eventually released open side flanker Ollie Lee into space. On the first occasion, he passed inside to Sean Street, just as he had done the week before at Penrith for the scrum half to race away and score under the posts.
Five minutes later in a very similar position, Lee took the ball after a marauding run from No. 6 Danny Kennedy, made ten or so metres and then released hooker Sammy Graham for the fourth try. There were still nearly fifteen minutes on the clock but at 28 – 8 the Wolves were just about out of sight. Another couple of scores in the closing stages would have been the icing on the cake.
AK though were far from beaten and weren't having any of that. Helped by a surfeit of penalty decisions in their favour, they set up camp deep in the Wolves twenty two. The Wolves set about eating up the remaining time by defending their line vigorously but persistent offending eventually cost them Yellow Cards for captain Robert Taylor and centre Ethan Harding in quick succession.
With only thirteen Wilmslow players now still on the pitch, AK's prop Nathan Bailey was able to burrow his way over from close range for a scruffy try in the corner, converted by Andrew Daldry. There was only a minute left as AK set off from the restart for a final score which would have got them a losing bonus point. Wolves lock Adam Hewitt then tried a brain dead kamikaze one handed interception which didn't impress referee Daniel Taylor one bit as he brandished his Yellow Card again to reduce the Wolves further to just twelve players.
Fortunately Adam Taher is anything but brain dead and from the ensuing penalty lineout, he covered across into midfield to steal the ball in a maul and a couple of passes later, he had the wit to put the ball out of play for no side.
Earlier, the Wolves had made a bright start to the game but handling errors in midfield gave AK the opportunity to grab the loose ball and to put their left winger John Coulson away for the opening score after ten minutes. Wilmslow were still their own worst enemies as they continued to mishandle and to get turned over at the breakdown. They then had a lineout throw close to the AK line, which they won but their body positions were so high that they couldn't get any kind of drive on. Forced to release the ball, play went across to the far side, where it was recycled for the chunky difficult to stop prop, Adam Taher, to barge over.
The next fifteen minutes were spent in Wilmslow territory as AK tried to batter their way through the Wilmslow defence to not much avail. They should really have had more than the single penalty kicked by fly half Daldry after thirty five minutes. AK were then forced to box kick out of defence from the restart. The Wolves are never more dangerous than when fielding high kicks and in a very similar play from the one which had got them their first try, they spun the ball from a close in lineout and when it was recycled a determined run from Hewitt brought their second try.
The Wolves then handed AK free possession when they failed to take the restart and the half had ended with AK pummelling away again at the Wilmslow line. One had to appreciate though the commitment and organisation of the Wolves defence throughout
Coach Chris Jones allowed himself a glimmer of a smile afterwards. His side were now league leaders, Penrith having fallen at Broughton Park. 'Our play is still work in progress and there's plenty for us to improve on, he said. Ollie Lee ran well late on especially when the game started to break up, Danny Kennedy carried well throughout, Sammy Graham at hooker seemed to add some solidity to both the scrum and lineout and Jamie Kingdon on the left wing had his best game yet. If we can put everything together and cut out the mistakes, we'll become a real threat to all the other sides in this league. But nobody can afford to ease up, he added, because there are guys playing well on the Vikings, challenging for first team places.'
Next week, the Wolves make a short journey down the Mauldeth Road for yet another testing derby match against Broughton Park.
Phoo: Danny Kennedy takes lineout ball.
Match report by David Pike.
Tags: