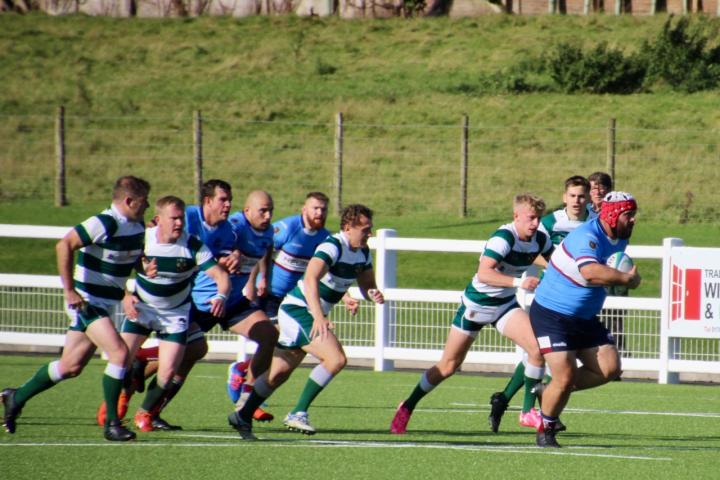 Saturday 28th. September 2019
North 1 West
Penrith 32 – 27 Wilmslow
The Wolves four match winning streak came to an end against Penrith who are now the only side in the league with a 100% unbeaten record. The final score may suggest another close run affair but the truth is rather different.
The Wolves were outplayed for most of the game and were trailing 32 – 15 with just a couple of minutes to go. With the game in the bag, the home side looked to take their foot off the pedal and let the Wolves in for two quick opportunistic tries and in the last play of the game, the Wolves came again, only to get into a muddle and penalised for crossing.
Winters Park is always a difficult place to come to and even more so now that the Penrith club has invested in the latest astro turf pitch. Very good it looked too. Wilmslow were shorn of about half a dozen of their most influential players for all kind of reason, injury, social and a former player's stag party.
At Level 6, it's predominantly an amateur game and all the clubs in North 1 West have to put up with this sort of absence.On this occasion, it was Wilmslow's turn. Still, it was a chance for others to stake a claim for a regular first team place.
None of them though stood out. In the backs Sean Street, Bob MacCallum, Mark Jennings and Ben Day, all proven performers did little wrong but with Ethan Harding and Jonny Kennedy both absent, the zip of recent weeks was just missing. The pack too never really dominated.
It has been unsteady in both the set piece and lineout all season and just lacked the drive that the absent Adam Hewitt and Alex Taylor would normally bring. Adam Taher, Robert Taylor, Seb Pemberton and at times Ollie Lee, who probably needs a couple more games to get back to his best, all caught the eye but overall they were second best against the more settled Cumbrians, both fore and aft. Their side was very little changed from their win against Stockport the week before.
The error count by both sides was high. Knock ons proliferated and the referee saw fit to award twenty five penalties, nearly equally distributed between the two sides, mainly for offences at the breakdown, which has become an absolute lottery with sides frequently not bothering to contest possession of the ball. When they do, there's a high risk of conceding a penalty. Twenty five though is a lot, one just about every three minutes. On a dry pitch, sunny afternoon with little wind and perfect playing conditions, it should have been far less.
Penrith scored within a minute of kicking off when they recycled in midfield for their No. 12 Olly Gutteridge to run round a Wilmslow defence, which mentally looked to be still on the bus. Both sides had their chances in the next half hour. Wilmslow wasted several good lineout positions from penalties with throws ruled not straight whilst Penrith looked the more accomplished with ball in hand but conspired regularly to knock on when the Wilmslow line beckoned.
MacCallum landed a penalty for the Wolves after twelve minutes but then on the half hour an ambitious penalty aimed for the corner was fielded by the Penrith stand off Ross Jackson close to his own line. He initiated a length of the field counter attack, which ended with their second try from lock Scott Lancaster under the sticks. Wilmslow replied immediately when MacCallum's restart scootered into touch well inside the Penrith twenty two. Lee got his hand to the home side's throw, Street made a dart and captain Robert Taylor was to hand for the touchdown. Wilmslow then conceded possession as they attacked from the restart and were fortunate to hold out under intense pressure at the expense of a Yellow Card for MacCallum.
Penrith then effectively took charge in the second half, restricting the Wolves to just a few scraps of possession.
They squandered several good opportunities but then scored from a scrum by quickly moving the ball to their right wing, Brook Birley, making it look ridiculously easy. At that stage, Wilmslow were down to just thirteen on the pitch with flanker Sam Lawton having joined MacCallum in the bin. The Wilmslow scrum was now being pushed around and got penalised, enabling Fraser Nicolson, Penrith's kicker,to take three points from a penalty.
They then punted a long kick upfield which full back Ben Day took to run it back and find touch in the Penrith twenty two. Penrith won their throw alright but spilt the ball in front of their own posts for MacCallum to grab it and put Pemberton in.
It was now a seven point game but not for long. The Wolves conceded possession from the restart when they were forced out on the left, Penrith drove from the lineout, were awarded a couple of penalties in quick succession and from a scrum in front of the posts, they put Birley in again for the simplest of scores. A few minutes later Nicolson landed a second penalty for 32 -15 and the game looked out of sight.
May be they took their eye off the ball, who knows, but suddenly with five minutes left, Wilmslow came to life. An attack down the right took them to the Penrith line in the corner, where from a pile up Jennings burrowed over.
From the restart, Ollie Lee broke through a defence which had gone AWOL. He didn't have the pace to go the whole way but Street does and the scrum half bisected the remaining cover to gallop away for a seven pointer. There was time for one more play. The Wolves threw everything at it but when it broke down, it was all over.
On the day, there was no argument that Penrith were the better outfit and were well worth their win. The Wolves though came away with two losing bonus points, which in the circumstances they will know they were fortunate to end up with.
Next week, they're at home to Altrincham Kersal. There looks to be very little to choose between many of the teams in this league. AK won on their last visit to The Memorial Ground so the Wolves will have to be on their mettle.
Photo:Prop Adam Taher breaks the Penrith defence.
Match report by David Pike.
Tags: