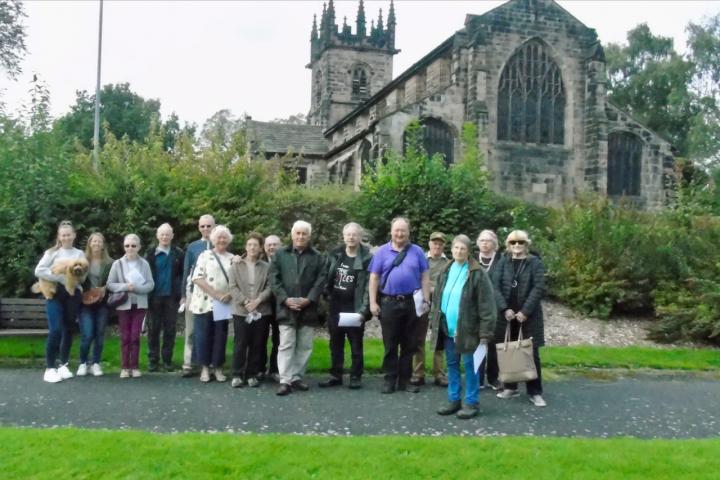 As part of National Heritage Week, Wilmslow Historical Society recently organised free walking tours of the town centre which proved so popular they unfortunately had to turn people away.
More than fifty people were left disappointed as the tours, which covered all periods from the Bronze Age, through Saxon, Norman and the Civil War to more modern times, were full. However, given the high level of interest, Wilmslow Historical Society are hoping to run some more tours.
Tour leader Councillor Jon Kelly said "There seems to be quite an appetite locally to get more recognition for local historical figures and historic events and we will have to have a good think about which ones we might celebrate and how we might do this."
Tour co-presenter Steve Hunt commented "The family stories people told us were absolutely fascinating. A man recalled the slaughterhouse in Bank Square where pigs were taken and from where meat was supplied to make pork sausages in Chadwicks Butchers in Grove Street where he worked. Others remembered the Palace Cinema on Station Road which towards its end was apparently a bit seedy. And someone else said their mother had gone out with Don Rathbone the Hollies' drummer who lived at the time in a flat above Cleggs Department Store.
"We were asked a question about a local girl, Phyllis Bacon 21, a Chief Wren, who is commemorated on the Cenotaph. We didn't know then but it turns out she died in WW2 when her ship bound for Gibralter with cipher and radio operators was torpedoed off neutral Portugal."
Alan Cooper, Chairman of Wilmslow Historical Society, said "These were the first tours we have ever run and I am very pleased to report they have been a great success - from the feedback everyone seems to have really enjoyed themselves. We are very proud of our Historical Society which was founded in 1969. We boast a membership of over one hundred people and have something to offer to anyone with an interest in local history from the complete beginner to those well acquainted with studying the past.
"We meet at 7.30 for 8pm on the second Wednesday of the month with a historical talk in the United Reformed Church in Chapel Lane. Everyone is welcome and people can find out more information by emailing wilmslowhistoricalsociety@gmail.com."