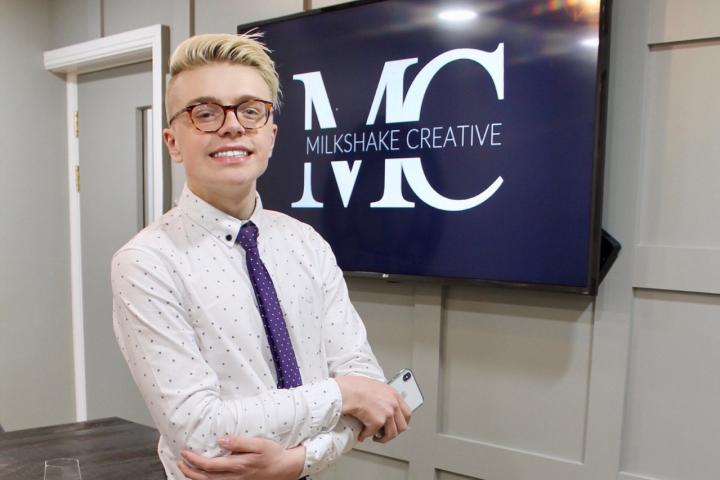 Promotional Feature
20-year-old William Hale is marking a milestone in his business's success just one year after its creation.
Hale, from Wilmslow, set up Milkshake Creative after his OCD led to him being unable to leave the house. Appearing in Channel 5's two-part feature length documentary in 2017, the then-teenager opened up on national television about his debilitating struggles with OCD and poor mental health. His optimism, however, was ever-present. "I've always maintained that I won't let the OCD defeat me," he insisted. "I'm making good steps to getting better."
Hale explained that at his worst, just leaving his home or being in proximity to people became near impossible. "All I wanted to do was lock myself in the house, and at that point I really didn't think I had a life worth living. The intrusive thoughts and constant compulsions were exhausting... anything I did would trigger this endless loop of rituals. Sitting on my bed with my laptop felt like an escape and I spent hours learning how to turn my passion for website building into a source of income."
Thanks to the support of Wilmslow High School he was able to complete his GCSEs despite his struggles with the mental illness, which led to him making the formidable decision to leave school at just 16. Hale began as a freelancer providing web development support for local companies; a role which soon extended to clients across the UK and overseas.
Soon, Hale realised that being self-employed wasn't enough. Wanting to offer services on a much larger basis, he was determined to launch his own digital agency. After months of hard work and investment, in 2018 Hale successfully launched his digital enterprise, Milkshake Creative and is now based in a Wilmslow office with plans to expand the business and take on more employees in 2020.
Milkshake Creative provides a bespoke and compelling web design service to start-ups and small businesses looking to get their business online without paying the typically extortionate fees charged by most design agencies. The company's focus is to offer high-end website design without the high-end cost, and Hale is certainly achieving that goal so far.
Visit Milkshake Creative at www.milkshakecreative.co.uk.
Tags: